(
Contributed
- by Jim Harechmak)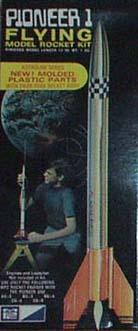 Brief:
Fun to build and fly.
Construction:
The kit comes with:
A very thick for it's size BT20 for the air frame
Plastic fincan with the launch lug molded in
2 piece nosecone
18" orange and white streamer
1/16" round elastic shock cord
Card stock shock cord mount
BT20 motor mount
Motor rention clip
Nice water-slide decals
Self-stick address card
and a chunk of fiberglass insulation for wadding
The instructions are very easy to follow. Easy enough in fact that I let my 12 year old build the kit even though it's 30 years (or so) old. The instructions have 3 main steps that are broken down by A,B,C's. Step 1 deals with the motor mount. Step 2 the fincan. Step 3 nosecone, recovery and address label.
Even with using white and styrene glues instead of c.a. my son had this rocket done in about an hour. We waited 3 more hours for the glue to dry before flying.
Finishing:
My son chose not to finish the rocket because he liked the red (fincan), white (bt), and blue (nc) look. The kit does come with NASA, USAF, and checker board decals. Due to their age I would bet that they would need alot of tlc to make them work.
Construction Rating: 5 out of 5
Flight:
Flights are very stable and high if you use C's. Prep is ordinary, wadding-streamer-nc, insert motor and go. Our first flight was with an MPC B3-3 that I found at a flea market, and boy what a CATO! Thrust and ejection at the same time!
The second flight was with an Estes A8-3. This was a good flight, woosh and pop. The third flight was on a C6-5. Again, good flight, very high and very straight. I recommend using tempra powder in the streamer for C flights as this rocket can be hard to spot over a couple hundred of feet.
Recovery:
Recovery was good. The streamer slows this light-weight down enough that if you land in grass there will be no damage. But if you have the chance of landing on hard dirt or asphalt use a small chute to avoid fin dammage.
Flight Rating: 5 out of 5
Summary:
Pro's: Ease of assembly, good flights, easy to find cheap on eBay and ROL even though it's 30+ years old
Con's: Old decals don't stick.
Overall Rating: 5 out of 5