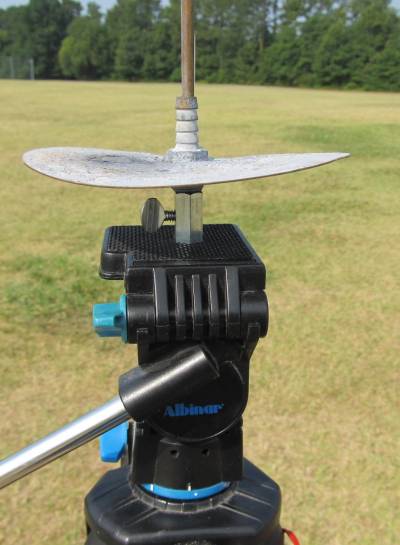 The "Adeptor" is an "Adapter" that allows you easily and firmly stick a 1/8" or 3/16" launch rod on a standard camera tripod.
It doesn't get much simpler than this. You get a metal adapter that, on one end, fits a standard camera tripod bolt. Flip the lid of your camera tripod, screw this puppy on, and it's fixed and tight. The other end of the adapter is a hole that fits 1/8" and 3/16" launch rods. There is a thumb screw that allows you to tighten it up.
The Adeptor goes on the tripod bolt easily and firmly. The thumb screw is easy to manage. I had thought, given it was not a very long device, that it wouldn't hold enough rod, but it is just perfect.
I made one change to the way I used the Adeptor. The instructions say to place the blast deflector under the Adeptor (between it and your tripod.) I already have a "slider" on my blast deflector (since I kept losing the plastic one that came with the Estes launch pad.) So I put the Adeptor on the tripod, put the rod in the Adeptor, then slid the blast deflector over the rod ABOVE the Adeptor. The instructions for Adeptor comment that the thumb screw may get a bit smudgy from the engine exhaust. This prevents that problem.
Construction Score: 5
This works perfectly!
Swapping out 1/8" and 3/16" rods is a cinch. WAAAY easier than swapping them out on a Porta-Pad. It raises the rocket up off the ground which makes it MUCH more accessible than the old Porta-Pad. Changing both direction and particularly launch angle is MUCH easier with tripod and Adeptor than it is with Porta-Pad.

The tripod is much sturdier (and less likely to tip over) than a Porta-Pad. My tripod, once collapsed, takes up less space in my trunk than the Estes Porta-Pad.
My biggest concern in rocket safety for low-power is eye injury from bending over a launch rod. As careful as I am to try to keep the rod capped, it is TOO easy to forget. Using a tripod and the Adeptor keeps the launch rod tip WELL above eye level which is a MAJOR advantage. Dads and Moms, are you listening?!
Overall Rating: 5