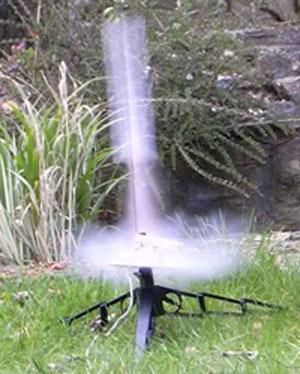 Brief:
I started out buying a pack of Micro Maxx motors and was looking for something to fly them in. I wanted to launch from my back yard which is pretty small so I was looking for a low flying model. I found the plans for Art's flying saucer available, for free, on his website so printed them off. Art's MMX saucer is very small and constructed from card and glue.
Construction:
The whole set of plans and instructions fitted on a piece of card around A4 size, just over I think. Construction is pretty simple, but as I proved it's not quite fool proof. I came unstuck when making the the fin section, I won't go into much detail (too embarassing) but I managed to assemble the fin section pretty much backwards, enough said.
Finishing:
No finishing was required, the upper cone already had 'Micro Maxx Flying Saucer by Art Applewhite (c) 2002' written around it and if you wanted your model to be a nice colour I'd suggest printing it on coloured card.
Construction Rating: 4 out of 5
Flight
The Micro Maxx saucer leaves the pad very quickly, hence the quite blurry launch photo, but once the motor starts the coast stage it slows down pretty quickly and reaches about 15 to 20 ft high, great for small fields/yards.
Recovery:
The recovery is tumble and it spins on the way down, as Dick said in the above review it backslides which does however mean it lands on its edge so it can sustain a very small bit of damage if it lands on a hard surface like a road, or the garage roof in my case!
Flight Rating: 5 out of 5
Summary:
A great rocket for people who want to get into flying saucers or Micro Maxx rockets in general and flights are interesting and fun. As for buying the kit or downloading it really depends on what you want out of the rocket. If you're looking for a nice model for display as well as flights then buy the kit but if you're looking for an introduction to saucers or Micro Maxx motors I'd download it off Art's site.
Overall Rating: 5 out of 5