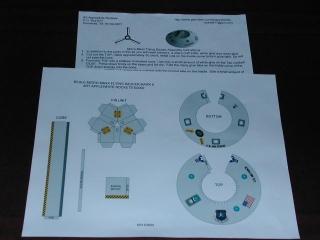 Brief:
The name is the description. This is a simple rocket constructed entirely of card stock.
Construction:
This kit consists of a single page of printed card stock and includes a page of instructions. To assemble the rocket, you need scissors, an X-acto knife, white glue, and crazy glue (CA). The major components include: upper and lower cones, an inner core section, a single piece fin unit that is folded into shape, a motor tube, and a motor block. As I noted above, these are all card stock. Pretty neat! I will not go into any detail here, as the instructions are available on Art Applewhite's web site. A little snipping, a bit of glue and you're done. This is a good project to assemble while watching TV.
Finishing: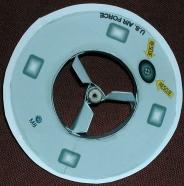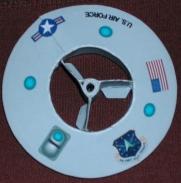 No finishing is required since the card stock is pre-printed.
Construction Rating: 5 out of 5
Flight:
A slot between the fin unit and the motor tube provides the 'launch lug'. Prepping requires only a small amount of masking tape for motor retention. I flew the saucer twice so far. There are spin tabs on the fin unit that cause the saucer to spin on the way up. However, the coolest part is that instead of turning over and coming down nose first, this saucer backslides, spinning the whole way down. It doesn't fly very high, but it is great fun.
Flight Rating: 5 out of 5
Summary:
Not much needs to be said about this kit. It's cute, flies nice, and has a simple elegance. So, what do you get by ordering the 'kit' vs. just downloading the template from Art's site? Answer: Nice heavy card stock with crisp graphics. If you like Micro Maxx rockets, I recommend you buy one.
Overall Rating: 5 out of 5