Brief: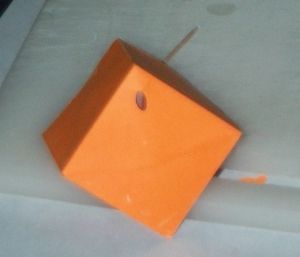 One of the neatest designs I've ever seen, it looks like three faces of a cube. This has got to be the simplest rocket ever designed. Cut out the pattern, make a few folds, and within about 5 minutes you have a flyable rocket.
Construction:
No tubes, construction is from a single piece of heavy cardstock. No hardware, simply cut, fold and glue; and you have a rocket. You can't beat the price, either, it's a free download!
Instructions are short and sweet and to the point. Nearly perfect, if you make nice, straight cuts. I used a straightedge and hobby knife to make them clean.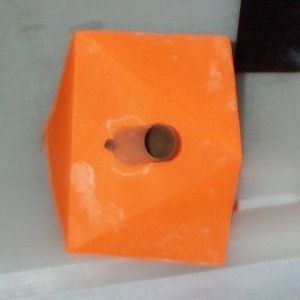 Finishing:
No finishing required. I printed mine on bright orange paper. Looks kinda neat!
Construction Rating: 5 out of 5
Flight:
The recommended motor is an A10-PT. I used them for my test flight, but an A10-3T or A10-0T both may work (I'd probably choose the -3T to avoid any flame problems). Preparation is simple, insert an ignitor, insert the motor and go. No retention is needed.
Recovery:
Nice low, slow boost. Nice slow descent, too. Landed really close. Wonderful for demos.
Flight Rating: 5 out of 5
Summary:
This is the most unique design I've seen. Thanks to Art for coming up with it and giving the 13mm version away for free. He also has an 18mm and 24mm available.
Overall Rating: 5 out of 5