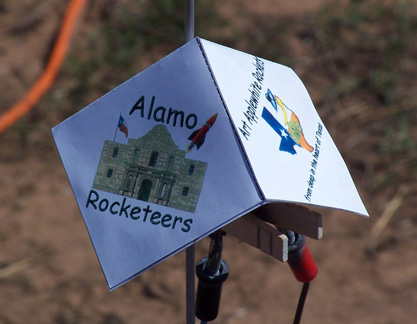 Brief:
This is a 13mm, paper rocket designed with an aerobrake recovery. The 13mm Qubit is one of Art Applewhite's free downloads. It can be found in several versions including this plain version on his website. Pick the version you want and download it as a PDF.
Construction:
This rocket is made from a single sheet of card stock. You download the PDF, put a peice of cardstock in the printer and print it out. Other than that, you will need some white glue, a straighedge and a razor knife.
The Qubit is an easy build that starts off with the motor mount. The mount is cut from the card stock, folded into a tube and glued along a tab. Simple.
The body of the rocket is just about as simple. It is cut out along the solid lines and scored for folding along the dashed lines. After that, it is just a matter of folding and gluing the tabs. You form an upper shroud that is reinfoced with a "floor" and lower shrouds.
When the body is complete, slide in the motor mount and fix it in place with white glue fillets. DONE!
Finishing:
Art offers a few prefinished versions of the Qubit on his website with themes like 4-H, Cub Scouts, Texas Flag, etc. There is also a plain version you can decorate any way you wish. I used the plain version, added some graphics from my club in Pagemaker® and printed out my own version.
Construction Rating: 5 out of 5
Flight:
The only motor for this one is an A10-PT because an ejection charge can damage the rocket. Accordingly, I loaded it up and set it off. It flew like all of Art's rockets. It spun a bit on the way up, inverted and aerobraked down. It was recovered without a scratch.
Flight Rating: 5 out of 5
Summary:
This is the second 13mm Qubit I have built. It is a dependable rocket that generates interest.
Overall Rating: 4 out of 5