Brief:

This is a new 2004 release from Estes. It is an E2X series rocket that can be built in an hour or less. It flies on mini motors up to 500 feet and uses a parachute for recovery.
Construction:

The kit came in a plastic bag with header card and consists of a minimal amount of components. The kit included:-
2 motor mount/fin sections
2 retension caps
1 launch lug
1 silver BT-20 size body tube
1 nose cone and insert
1 shock cord
1 preassembled 12 inch parachute
1 peel and stick decal sheet
The instructions for this kit are very easy to understand and included illustrations and text that even a beginner should be able to follow without any problems and the shock cord mount is included. No templates are included because none are needed.
This rocket is very easy to build and can be built in an hour or less but I spent about 2 hours assembling mine.
I started by cementing the two motor mount fin assemblies together. I then mounted this completed assembly into the body tube and then glued the launch lug into place.
While I was waiting for that to dry, I cemented the insert into place in the base of the nose cone as this cone is a two piece unit.
I then assembled the shock cord mount. I made a change here by adding a small length of Kevlar® and tied the shock cord to it, very similar to the Quest setup. After it dried, I then glued the completed mount into place inside the body tube.
I also ditched the parachute as this rocket is really too light for one and tied a Rockethead Rocket mylar streamer into place and then tied on the nose cone to complete the assembly.
PROS:
Very fast assembly
Great parts fit.
CONS:
Finishing:

There is no real finishing involved here due to the precolored red plastic components and silver body tube. All you do is apply the included peel and stick decals and that's it.
When finished, this little rockets looks great and that is why I purchased it.
PROS:
Looks great
No painting required.
CONS:
Construction Rating: 5 out of 5
Picture courtesy of EMRR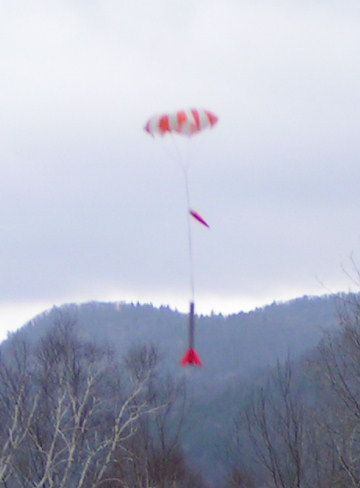 Flight:

The reccommended motors for this rocket is the 1/4A3-3T, 1/2A3-2T, A3-4T, A10-3T, all Estes 13mm mini motors.
This rocket uses a retension ring to hold the motor in place. Mine was a very tight fit at first with a motor installed but I was able to get it to loosen up. A spare retension ring is included in case you lose the first one.
This rocket does require recovery wadding and is packed in the normal manner. I used about 4 sheets.
For my two flights, I used 1/2A3-2T's as I have a rather large stash of them. The rocket took off straight and fast both times to maybe 250-300 feet and deployed the streamer just before apogee. My next flight will be on the A10-3T.
PROS:
Flies great even on low cost mini motors.
CONS:
Retension ring was very tight.
Recovery:

This rocket comes with a 12 inch parachute for recovery but I went with a streamer for recovery which brought the rocket down fast enough to avoid excessive drift but slow enough to survive. It almost landed in my range box on the first flight just a few feet from me.
PROS:
Recovers fine with streamer recovery.
CONS:
Why is a parachute included with a rocket of this size?
Flight Rating: 4 out of 5
Summary:

I really like this rocket. It is a very nice little rocket that looks great with the red and silver scheme and it flies great too. Best of all, it is fairly inexpensive. I paid $5.09 for my kit at my local hobby shop, a great deal. I am reccommending that a friend of mine that has never built a rocket before try one of these. Great beginners kit.
Main PROS:
Easy and quick construction
Appearance
Flight performance
Low price.
Main CONS:
Tight retention ring and parachute.
Overall Rating: 4 out of 5