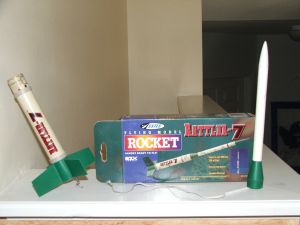 Brief:
The Rattler 7 was one of a pair of rockets that I bought specifically to be built and flown the following day at my first club launch back in 2001. An almost RTF (E2X) offering from Estes, the Rattler 7 was a scale-like, pseudo-military missile with sticker graphics and 18mm power. Despite what sounds like a lack of enthusiasm for this bird, I actually found it to be a decent looking bird once completed and gained a grudging respect for its performance. (I paid $10.99 for this thing? Man, I really must have wanted to fly that next day.)
Construction:
The parts list:
PNC-5A nose cone
5.5" length BT-50 (beige)
5.5" length BT-5 (beige)
PFU50 plastic fin can
TA550 plastic transition
18mm engine mount
12" length of 1/8" shock cord
12" parachute
I bought this rocket because it looked like a quick build, and as such I had no preconceptions about its durability. White glue was used to build and install the motor mount and the traditional tri-fold shock cord. (I REALLY didn't go for the "retro" type attachment method that the instructions suggested with the slit in the body tube.) Plastic cement was used to attach the upper section of BT-5 to the transition and the fin can to the lower body tube. Instructions were pretty much as I remembered them being from my younger days. All in all, I was finished with the project within an hour and it had 18 hours for all of the glue to harden. Or so I thought.
Finishing:
Finishing involved sticking a few stickers on the fin can and body tubes. I seem to remember the instructions showing the decals as wraps, but I remember the individual peel 'n' stick camo pieces.
Construction Rating: 3 out of 5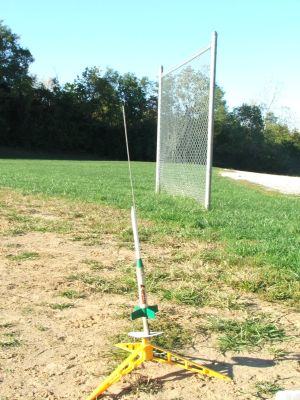 Flight:
First flight was on a frigid but sunny day in northern Ohio, a day more suited for enjoying the sunshine from inside while watching what would turn out to be Dale Earnhardt's last Daytona 500 on television but that didn't stop us. Quilted coveralls were the order of the day and we saw several memorable flights before the Rattler 7 had its turn. Loaded with a B6-4 from the comfort of my van with the heater on high, the rocket left the pad and flew a surprisingly straight flight considering the wind. Just as the forward motion stopped the ejection charge fired, I heard the term "sep" for the first time ever. As I watched the lower section float down on the parachute, I could also see another part fluttering out over I-90. There would be no recovering the upper section and the lower section landed just behind where we had parked. When I got home I searched through the contents of my newly purchased Designer's Special, I found a length of BT-5 and a balsa nose cone. These were attached and would serve the Rattler 7 for the rest of its flying days. Subsequent flights were made on everything from a 1/2A6-2 to an ill-advised C5-3. The Rattler 7 was retired from service when a hot 1/2A6-2 ejection charge snapped the too short shock cord and blew the lower section of the rocket across B6-4 Field in 2003.
Recovery:
Recovery wasn't a problem. The plastic fin can made this rocket fairly heavy and pretty much a straight up and down bird, great for small fields. The 12" parachute was a perfect choice. (Other rockets with this can used a streamer, which was obviously a bad idea.)
Flight Rating: 4 out of 5
Summary:
PROs: Faux-missile styling. Impressive performance.
CONs: E2X. Fairly fragile when built according to directions. Sticker decals.
Overall Rating: 3 out of 5