Brief:
This is the third Mercury Redstone kit produced by Estes. I built the original K-41 when I was younger and there really isn't any comparison between the two. This newest kit is more like a snap together plastic model kit. There was not much skill involved in building it other than trying to apply the very shiny peel and stick decals. More on that later.
Construction:
The instructions are not the standard very easy-to-follow Estes instructions. They were more a series of pictures with little text.
The build mostly consisted of snapping together the plastic parts. It was not challenging and went quickly.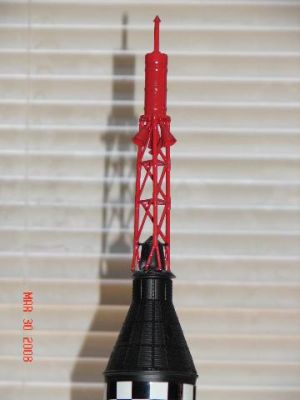 Finishing:
I painted the rocket components and then applied the decals. I found that I like peel and stick decals even less for wraps than for other applications. Applying them is pretty much a one shot deal for the most part. Peel and stick wraps are very unforgiving. I got them on OK but didn't really like the shiny look to the decals on the rocket. The finished rocket looks much like a shiny plastic toy.
Construction Rating: 2 out of 5
Flight and Recovery:
I started out with a C6-3 engine because the rocket felt very heavy. I'm glad I did because it doesn't fly all that high.
The specs say it flies to 500 feet but I don't think mine has even cleared 300. Each flight has produced a low altitude flight with ejection happening at around 150 feet or so.
I've had the tower break off a couple of times but it glues back on easily enough with some plastic model cement.
Flight Rating: 2 out of 5
Summary:
On the plus side, this kit could be considered a good entry rocket for someone new to building model rockets who wants to start building scale-like kits.
On the negative side, the build wasn't as satisfying as most. Due partly to the fact that building the kit is comprised of snapping the plastic parts together and then apply my least favorite (peel and stick) decals. Plus there's no balsa to work with.
Overall Rating: 2 out of 5