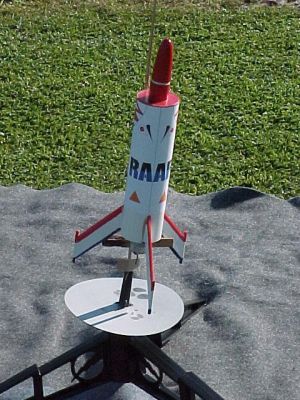 Brief:
Retro looking budget kit for 18mm motors.
Construction:
The cover art doesn't do justice to this kit, it looks a lot better in the flesh than the cream example used in the photograph. Apart from finishing, and laminating the fins with printer paper, the kit was built as per the instructions. All parts were present.
The instructions weren't a surprise to me as I have built a number of Starlight kits, but if you are used to Estes and Quest instructions, get ready for a shock. Instructions are typewritten and illustrations are hand drawn. This isn't so bad, but when measurements are hand written, and the instructions have measurements like the 2 !/2" [sic] example above, newer modelers may find themselves confused. However, this is nothing that a few hours with a computer and a good proofread wouldn't fix.

On with construction. My BT-20 (called a BT-7 in the instructions) was unevenly cut, so I re-cut the ends first. The motor hook provided is made from music wire, and despite being glued and taped to the motor mount, the wire simply rotates around its long axis allowing the motor to be kicked on ejection (more on that later). Both body tubes are good quality, with fine spirals.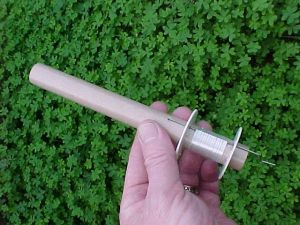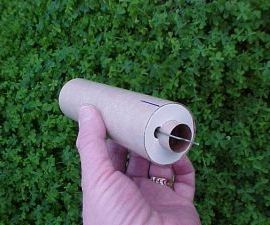 Three centering rings hold the BT-20 in the larger, shorter, BT-60 (called a BT-16). This gives the Asteroid Probe its great 'Hot Dog' looks. Top and bottom centering rings sit flush with the ends of the larger body tube.
The balsa used in the fins and nose cone is fairly soft. I decided to bevel the leading and trailing edges of the fins and laminate them with PVA (white glue) and printer paper. The nose cone required a lot of filling.
Fin attachment is easy. The body tube is pre-marked with blue lines for fins and a red line for the cardboard launch lug. I used gel CA for initial attachment of the fins, then filleted with 5 minute epoxy.
The shock cord is a good length of round elastic anchored with a Stine style paper mount. A good quality 30cm (12 inch) mylar parachute kit is included with the Asteroid Probe.
Finishing:
Finishing was simple. I sprayed the rocket with 3 coats of Plasti-Kote Super Primer and 3 coats of white enamel. Red for the nose cone and front centering ring, blue for the rear. Stripes on the fins were done with Tamiya paint pens.
One sheet of decals are provided. Red text that says 'Asteroid Probe' in an MICR style font, a gold band, and a couple of small arrows. I decided not to use them on this build. Instead I made a wrap of adhesive art paper on which I printed a shark's mouth, some eyes, and other gubbins.
Construction Rating: 3 out of 5
Flight and Recovery:
I flew my Asteroid Probe a total of 8 times. Boost was always very straight with a minimum of weathercocking. The motor was always taped in as the music wire motor hook simply rotated out of any position where it could have been any use in holding the motor. B6-4s and C6-5s give excellent flights.
The mylar parachute is a tight fit in the BT-20 body tube. A liberal dusting with talc immediately before packing gave a good deployment every time.
On 6 flights the Probe detached a fin on landing, and strangely it was always at the fin root. There was never a snapped fin. One flight yielded no damage. The final flight was a ballistic lawn dart on a C6-5 which tore the shock cord mount out of the inner body tube. I'll miss the flights, but not the landings.
Flight Rating: 3 out of 5
Summary:
This is not my first experience with Starlight's budget range of kits, having previously built a Queeze-Bee, Hyperon, and Sparrow. There are a couple of their other kits waiting in the build queue. Starlight's kits are a mix of good and not so good, and the designs are quite neat, but the translation into kits leaves a bit to be desired. This had the potential to be a fantastic kit, but as they say, the devil is in the detail.
PROs: Unusual styling. Pre-marked body tube. Low price.
CONs: Instructions. Motor hook. Fins are easily damaged.
Overall Rating: 3 out of 5