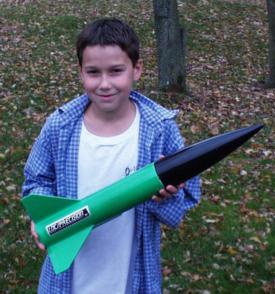 Brief:
Single stage mid-power rocket.
Construction:
All of the parts were contained in a plastic bag and they were all intact and high quality. The airframe had a very small spiral groove, the fins were top quality plywood, and the nose cone was sturdy plastic. The centering rings were also quality plywood. The parachute provided was hot pink in color and 15" diameter.
The instructions were contained on the back of the title card that was in the bag. There was not a great deal of detail in the instructions and for the simple design of the Onyx, it was not necessary. The parachute retention was contained in a small bag by itself and had its own instruction sheet. The airframe was pre-marked for the placement of the fins and the launch lug and assembly was straight forward and simple. This rocket is a good choice for someone that is new to mid-power rocketry. No surprises or unexpected troubles. The parts were all glued together using 2 ton epoxy, the instructions direct you to use epoxy throughout. After everything was glued, I applied healthy epoxy fillets to each fin and to the launch lug.
There is a note on the instruction card for the 24mm motors, that says they are to be used with LOC's MMA-1 adapter. This adapter is not included.
The recovery system has a nice hot pink rip stop nylon parachute with ample gage nylon leaders sewn to it, the 3/8" elastic shock cord is about 72" long and is secured by LOC's standard method of attachment. This entails a nylon string that is looped, tied, and then epoxied to the inside of the airframe. Then, the end of the shock cord is tied to the end of the loop that protrudes from the top. Just make sure to glue the nylon string down far enough to fit the nose cone it without interference.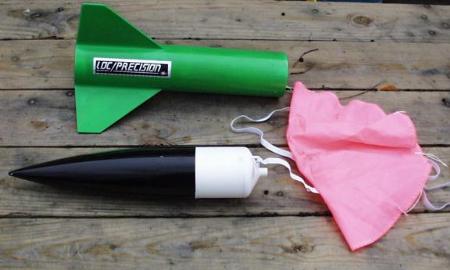 Finishing:
I asked my son how he wanted to have this one finished. For some strange reason, he wanted green. (go figure) Green it shall be I said, but it's going to be fluorescent green and not grass green or leaf green. After a few coats of sanding sealer followed by primer, I sprayed on some fluorescent green paint. Strange thing about that fluorescent paint, it doesn't finish very smooth. To compensate for that, I sanded the paint after each coat with 400 grit sandpaper. Once I was satisfied with the amount of paint, I coated the finished rocket with clear paint. I applied the LOC decal and was finished.
I got the self stick decal by a little bit of calling around. The kit did not originally come with any decals but, Magnum's website says that there is one included with every kit. I e-mailed them and was told that there should have been one and to call LOC to get one. Upon calling LOC I was told that they were discontinuing the decal so that all of their rockets didn't have a "predetermined" personality. But, they also told me that they had about a dozed or so left that they had just sent to Magnum. I e-mailed Magnum again and was told that he would mail a decal to me. I wanted the LOC decal because I wanted everyone to know that the quality product that they were looking at was, in fact, a LOC/Precision rocket.
Construction Rating: 4 out of 5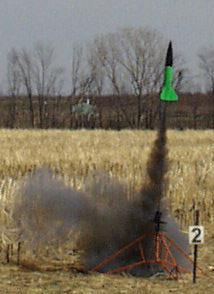 Flight:
Recommended motors are D12-3, E30-7, F50-9, G40-10. I chose to go somewhat bold with the first flight, so I used the F-50. There was not retention provided and I didn't take the opportunity to add anything. It is just as easy to use masking tape for motor retention sometimes. I just poured some parachute protection in and packed the chute in. It lifted off fast, real fast. Flew straight and true and went out of sight; well out of my sight because I'm nearsighted. But, when the chute popped, we followed it to the ground for a nice landing. No trouble at all.
Flight Rating: 4 out of 5
Overall Rating: 3 out of 5