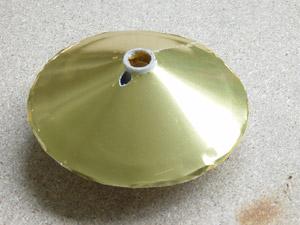 Brief:
The 13mm Art Applewhite Delta Gold Flying Saucer kit was donated to me by EMRR for review. As one would expect from Art Applwhite, the kit is well designed, and meant to fly on Mini 13mm motors.
Construction:
The kit contains:-
Set of clear photo illustrated instructions,
A 13mm motor tube
One sheet of Gold card (printed on reverse with all parts)
Sheet of foam poster board, inscribed with centre parts.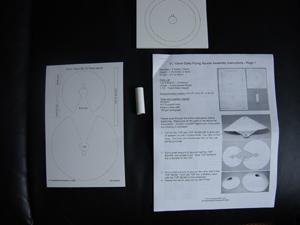 All components were in solid condition, and seemed very high quality. The instruction sheet was extremely well written, and nicely illustrated with photos.
Construction of this kit was pretty simple. Almost seemed too easy. The parts are all cut from the gold card with a hobby knife. I'd recommend using a new blade to ensure accurate cuts. The foam board centre was a little tricky as you have to make a 30 degree bevel cut through the board, but not to difficult. Once cut out the bevel must be sanded to get a clean edge.
The top section is formed into a shallow cone and glued (I used All - purpose glue) using the included seam to get a decent joint. The same goes for the bottom cone section. Next comes the main assembly, which involves mounting the centering foam board inside the top cone, and I added an extra glue fillet once this had set up just make sure of a solid joint. The bottom cone is then added to the underside, making sure the launch lug hold are aligned with the top and centre section, followed by another fillet of all purpose glue. Finally the 13mm motor tube is mounted through the bottom centre & tope sections and glued into place with an extra fillet. That's it!
Finishing:
Finishing on the gold model is not required, although the instruction recommend a clear coat if building one of the matt versions.
Construction Rating: 5 out of 5
Flight:
Not had a chance to fly this yet due to a lack of motors. But will certainly be taking it out on next launch day. If this baby flies like its larger counterparts (owned by friends from my local group) then it will be a crowd pleaser.
Summary:
All in all, Art has produced a great kit. It's a breeze to assemble and looks good. I'd certainly look at building one of the larger versions.
Overall Rating: 5 out of 5