Brief
This kit, when complete, is a scale model of an AGM-65 Maverick air-to-ground tactical missile. Scale model kits of military style missiles are a specialty by the company The Launch Pad.
This is a Skill Level 3 build for the experienced model rocket builder.
Components
High-quality components seem to be a norm with Launch Pad kits. I don't remember if this kit came with an original rubber shock cord or not, but I built it with a 1/4" elastic version. Builders will complain about the "weak" or "thin" balsa material for the fins in these kits. They also need to be traced from patterns and cut from the sheets. No die-cut material here! I'll describe my solution to the weak fin issue in the Construction section of this review. I also substituted BB shot/30 minute epoxy for the nose cone weight instead of the clay included in the kit. Decals are not included in this kit. But, I did buy an excellent set of vinyl decals from Stickershock. The parachute is mylar material which I'm not a big fan of.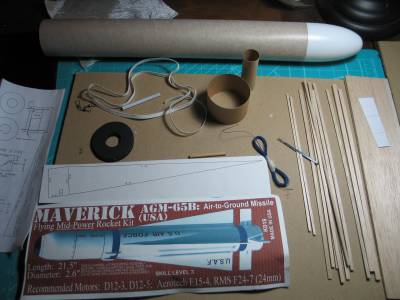 Construction
PROS:
The Launch Pad assembly instructions are not as detailed "hold your hand" like ESTES, but TLP (The Launch Pad) provides nice diagrams that will get any experienced modeler through this build. I like the diagram layouts and had no problems. Other than having to contact TLP for a sheet missing from the original instructions. I like the parachute compartment disc being added which helps keep the parachute towards the top of the body tube and aiding in keeping the rocket center of gravity balanced. TLP also adds a tubing coupler which is installed in the tail to help reinforce it and aid in stability if you choose to fly this bird on an E30 motor. For the recovery section of the build I like the dual swivel configuration for the parachute. I also substituted BB shot mixed with 30 minute epoxy for the nose weight. The clay included with the kit was just too dry to use.
CONS:
There are plenty of detailed instructions, but some "fill in the blank" details are left out (like no fin marking guide - I used a guide out of an Estes Der V-3) and no instructions on where to mount the launch lug (which is left up to the builder). One page of the instructions was also missing (which was quickly replaced through emailing TLP).
I read a lot of complaints about the thin or weak balsa material supplied in these kits. Many builders coat the material with either CA or epoxy. I "skinned" the fins in this kit with adhesive labels. This worked excellent when I built TLP's Exocet .38 (see review on this site).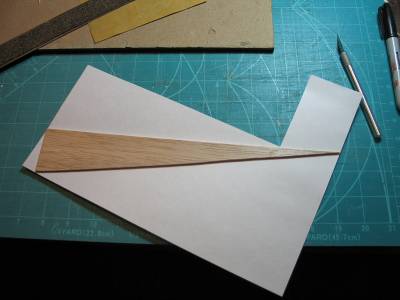 One of the balsa sheets was warped a little, but I straightened it out in a wood vise overnight before gluing it to the body tube. I'd never dealt with a mylar parachute and decided to build this kit through with the one included. I like nylon parachutes especially in rockets with larger diameter body tubes. The mylar is a nice light-weight material and worked well during the flight (see Flight Pros and Cons). One of the biggest cons with TLP kits is the clay for the nose cone weight. I've never been a fan of clay and will always substitute an equal weight combination of BB shot and 30 minute epoxy.
Finishing
PROS:
This kit was a pretty straight-forward easy finish. No balsa filler or CA coating because I "skinned" the fins made finishing a breeze. I applied three coats of Rustoleum primer/filler of three different colors (sanding in between coats) before finish coating with two coats of Valspar gloss white and gloss black for the nose top. I then clear-coated the entire rocket with Valspar gloss clear coat. TLP doesn't supply decals so I purchased a set from Stickershock. It was my first experience with vinyl decals and am now a big fan of them especially on these mid-power build rocket kits. The final look is awesome! I then applied one more clear-coat to seal the decals.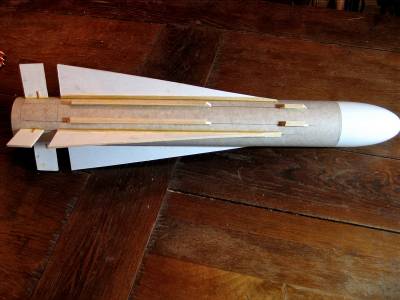 CONS:
No decals included in the kit.
Construction Score: 4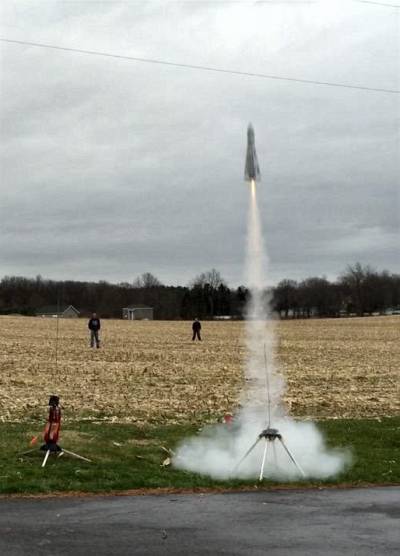 Flight
PROS:
I installed a 3" square fiberglass heat shield to help reduce the amount of wadding. I may not have even used any conventional parachute wadding for the first launch. I used a D12-5 motor for the first launch.
CONS:
I had to launch from a pad with a 1/8" launch rod instead of a 1/4" because the 1/4" caused too snug of a fit in the launch lugs (I used two). It was a rainy day on and off with wind gusts up to 15 MPH. The Maverick arched off the pad with the wind (I believe a gust tilted the pad at launch).
Recovery
PROS:
I like the dual snap swivel hook-up of the parachute to the shock cord. The mylar parachute deployed well. I still prefer a nylon parachute and may switch to one next flight.
CONS:
One rear fin broke off on impact with the corn field we launched from that day. The ground was rock solid so nothing to do with the design. The fin was easily re-attached.
Flight Rating: 4
Summary
I've become a big fan of TLP kits gravitating towards their scale size and being mid-power rockets. I also like the Skill Level 3 challenge of and detail of the kits. If you like military style kits and can handle making a few modifications these kits are for you! I may even try building one of TLP's kits using the paper nosecone extension this winter!
Overall Rating: 4