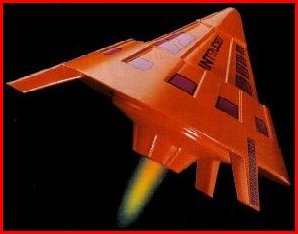 Brief:
The Intruder is one of Estes' first RTF models. It is a conical piece of foamed polystyrene with a motor mount. Nice way to burn motors. It flies low and slow.
Construction:
The Intruder has no fins, only short 'legs' on the rim of the polystyrene body cone. A single 13mm motor powers this beast.
No construction to speak of. You can't use Krylon on this one because it eats the plastic.
Finishing:
I left it plain white. Acrylic paints may work but you gotta test it first.
Construction Rating: 5 out of 5
Flight:
Flight is excellent, just a nice, slow lift. Doesn't need much room to fly (maybe 30-40 feet).
Recovery:
Recovery is just by drag. It's nice and light and floats down.
Flight Rating: 5 out of 5
Summary:
A nice, simple rocket.
Overall Rating: 5 out of 5