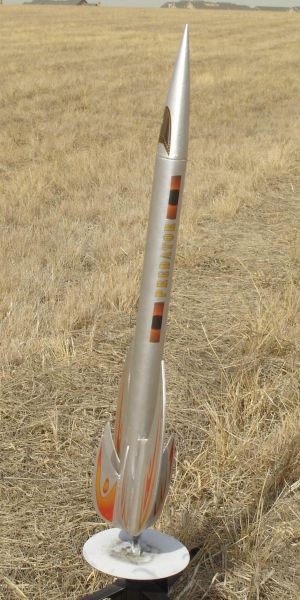 Brief:
Futuristic rockets are my favorite and this one does not disappoint. "Unique fighter spacecraft design" is how Red River Rocketry describes this 8 finned, futuristic rocket. A single 18mm motor mount will lift the Predator on flights up to 1500ft. It has a nice "Sci-Fi" appearance when dressed in it's full color decals.
Construction:
The kit contains:
1 Balsa Nose Cone
1 BT-55 Body Tube
2 BT-05 Body Tubes for the side pods
1 MM20-55 Motor Mount Kit
2 Sheets of Laser Cut Fins
1 Pre Assembled Parachute
1 Small bag of parts (Launch Lugs, Shock Cord, etc.)
1 Impressive set of Assembly Instructions
1 Set of full color waterslide decals.
I bought this kit from John Dyer, the owner of Red River Rocketry, at a local DARS launch. The kit comes packaged in a quality bag with colorful header card. Everything about this kit is top quality. The 5 pages of assembly instructions are very impressive and come on glossy paper that looks like it has been type set. Nice touch! The instructions are very easy to follow and include plenty of illustrations.
Probably the hardest thing about this kit is the massive amount of balsa to fill and sand. I used Elmer's Fill 'n' Finish to fill the balsa on the laser cut fins and the balsa nose cone. The two large fins or "wings", as they are called in the instructions, must be glued together from two pieces to form each wing. Several coats of Fill 'n' Finish will take care of the visible glue line on the wing.
The kit comes with tube alignment guides for drawing the lines for the fin positions on the main tube. I like to use a piece of aluminum angle to make sure the lines are drawn on straight. The two large wings are glued to the pods (made from BT-5 tubes) that are attached to the main body tube. Alignment of the 8 fins might be tricky for an inexperienced builder. I like to use Apogee Components fin alignment jig on my smaller rockets and it worked just fine for this.
The kit came with a long elastic shock cord. I've had so many separations and dented body tubes from elastic shock cords in the past, I never use them. I replaced the elastic with a long strand of Kevlar® string. This would be a great addition to this already quality kit.
The rest of the build is straightforward and the instructions are very logical in their assembly order. Double glue joints are encouraged throughout the instructions and I highly recommend using them. I used wood glue throughout the build.
Quality parts and excellent instructions make this an enjoyable build.
Finishing:
I used several coats of Kilz primer to cover up imperfections and spirals in the tubes. I chose to paint mine just like the face card. Solid Silver Krylon with the included decals make a "sleek" looking rocket. There are a lot of decals to apply but just like everything else in this kit, they are high quality and go on easily. I used Future floor wax to clear coat the rocket. I've never had good results on a silver paint job with clear coat paint. Future floor wax will not dull the finish like clear paint will and does a nice job of protecting the decals.
Construction Rating: 5 out of 5
Flight:
My first flight was on a B6-4. Winds were around 5 mph. Flight was straight as an arrow with no weathercock, just a slight spin. I love when you get the fins on straight and are rewarded with a straight flight. (I've built so many they haven't!)
Next two flights were on C6-5s. Both were perfect flights to about 1000 feet and deployments were just after apogee.
Recovery:
Deployment was at apogee and the model came down nicely on it's 15 inch chute.
Flight Rating: 4 out of 5
Summary:
It is a very nice model that gets lots of attention and comments at the flight line. The quality of the parts are on par with the best out there. Add a Kevlar® shock cord to the kit and it would be perfect. The Predator has quickly become one of my favorites in my fleet!
Overall Rating: 5 out of 5