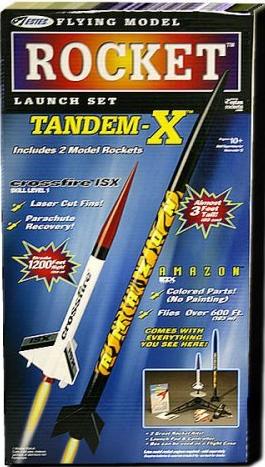 The Estes Tandem-X Starter Set is a good way to get into the hobby. According to the Estes website:
Two is better than one! You'll get X-tra value with the Estes Tandem-X Model Rocket Launch Set. This exceptional rocket set features a pair of extreme, high performance rockets with a launch system for launching them. Whether you're a new rocketeer or a seasoned veteran, launch in tandem for an exciting model rocket experience!
The E2X (Easy to Assemble) Amazon is as imposing as the name sounds. This giant towers almost three feet (91 cm) high and is quick and easy to build! A tiger-striped body tube, precolored plastic nose cone and fins and self-stick decals make building this rocket easy to do in about an hour. When flown on our standard engines, this huge rocket can reach heights over 650 feet (198 m) with recovery on a colorful 18 inch (46 cm) preassembled parachute.
The Crossfire ISX is a Skill Level 1 kit that can easily be built in about a day. This rocket features a totally streamlined shape with aerodynamic fins and nose cone. It stands 15.6 inches (39.6 cm) tall. When launched with powerful Estes standard engines, this bullet can reach cloud busting heights up to 1,200 feet (366 m). A preassembled 12 inch (30 cm) parachute returns the Crossfire back to earth to launch again and again.
Construction:
These two rockets are typical Estes E2X and Level 1 so I won't go into details on this. My 10 year-old built the Amazon without help and I built the Crossfire. The launch pad is the current standard black pad with 1/8" rod and the Electron Beam Launch Controller. They are easy to set-up and easy to use.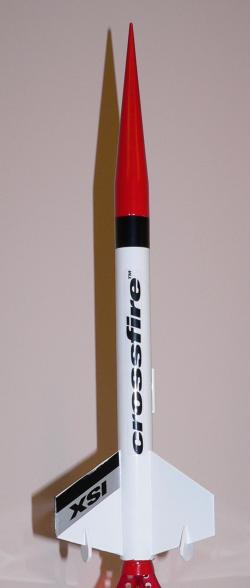 As I said, my son built the Amazon and it is essential two body tubes that join together with a coupler that has a launch lug built into it. The rocket uses a pre-assembled parachute and has a nice looking "AMAZON" sticker. The 33.6" length and 1.35" diameter body makes it a "big" rocket.
The Crossfire requires a bit more work. It has three balsa main fins and three small balsa "cross" fins. These are laser-cut and need to be sanded and assembled onto the rocket. The motor mount is assembled in typical Estes fashion. TIP: I tied a piece of 28" Kevlar to the motor mount and tied the short (typical Estes) elastic shock cord to that. The rocket uses a unique plastic nose cone (at least I can't see it being used on any other rocket). It looks a lot like a Nike nose cone but has a long transition section before the shoulder goes into the body tube.
I finished my Crossfire with Krylon paint.
Overall, for CONSTRUCTION I would rate this kit 3 points. Both rockets are average, but I'll bump up the points by acknowledging how good the Crossfire looks and the fact that there are two rockets in this set. I love the motor retention on the Amazon. I wish, like many, many others that Estes would simply double the length of their shockcords.
FLIGHT/RECOVERY:
The Amazon's recommended motors are B4-2, B4-4, B6-4, C6-3 and C6-5. TIP: C6-5's are great and A8-3's are a bit scary!
The Crossfire's recommended motors are 1/2A6-2, A8-3, B4-2, B4-4, B6-2, B6-4, C6-3, and C6-5. TIP: The C6-7 was my best match!
My son has flown the Amazon many times with the most recent flights taking place at NERRF. It is easy to prepare for flight and is a straight flier. It takes a bit more wadding that other rockets due to the wider body tube.
Below you will see his Amazon taking off on an A8-3 (right), in the air A8-3 (center), and losing a drag race start on a C6-5 (left).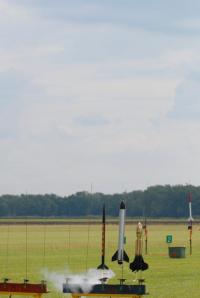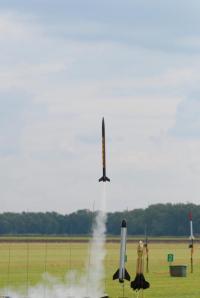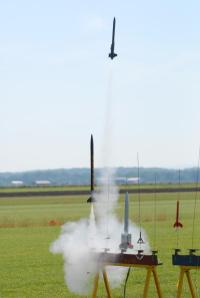 My finished Crossfire ISX rocket weighed in at 1.3 ounces with a CG at 9.875" from the nose cone. I created the attached RockSIM and SpaceCAD files (top of page) for this rocket based on my results. Both files have a CG and Total Weight Mass Object that you could vary to match your build.
I shipped this rocket to NARAM since I was only going to be there a day or so. This plan included buying motors at the site. When I arrived on Thursday afternoon I was able to buy a pack of C6-5's and the next day a pack of C6-7's to fly this and other rockets.
RockSIM indicates that I should get 1596 feet on a C6 with optimal delay of 6.23 seconds, while SpaceCAD says 1051 with optimal delay of 5.51 seconds.
The first flight was on a C6-5 and you can see I caught it coming off the pad (below left). Lift-off was excellent and the rocket flight was straight up. Ejection was clearly early and the parachute did not seem to come out until about half-way down. Then it didn't open fully. Probably a good thing so that my walk was shorter.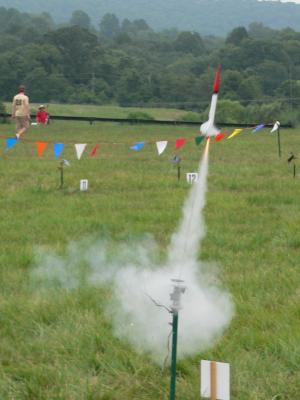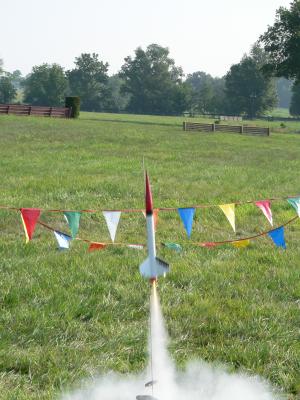 The next day, using my only remaining motor, I put it up on a C6-7 (above right). The delay was perfect (as far as I could see). The rocket came down spinning the 'chute tighter and tighter. (If someone could come up with a way to do this automatically in reverse...). Everything looked good and she'll fly again.
For FLIGHT/RECOVERY, I would rate this rocket 3 points. They are standard Estes kits and the performance is consistent. The twisting of the recovery lines on the Crossfire can easily be eliminated with a swivel.
I give the rocket set an OVERALL rating of 3 points. As I mentioned earlier, it is nice to have two rockets in the set. Both look good and fly well. The Crossfire ISX is going to be a rocket I attempt to model an upscale on. I have my old Polecat Spike nose cone just waiting for a new body!