Brief
This is the Rocket that I have chosen to do my level 1 NAR cert with.
Components
A Pro series kit, it has nice wood fins and sturdy construction.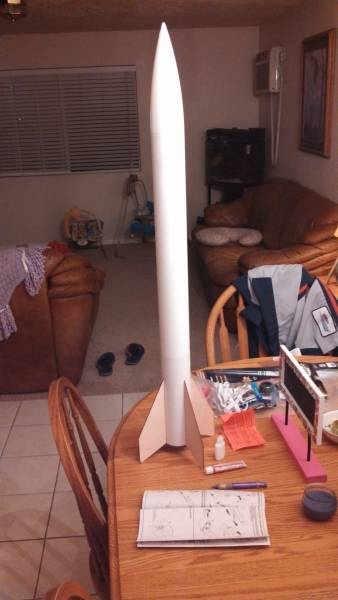 Construction
I built this rocket with the intention of flying large 29mm reloads in it so I used epoxy on everything. I made a aluminum ring that sits about 2\3 down the body tube with a hole in the center. I have a Beer can that slides down the tube and rests on the ring (this is my deployment piston) There is a braid of Kevlar for the shock cord with 8 feet of bungee 1\8 inch thick with fishing swivels and 2 24" Estes nylon chutes in a Y pattern. The nosecone has a small altimeter attached with a 24" nylon chute that independently deploys on its own.
Finishing
I didn't care for the stickers or the paint scheme, so I went with OD Green and Flat White. ICBM SS 20!
Construction Score: 4
Flight
I am planning the maiden flight with an Areotech F50-6T motor.