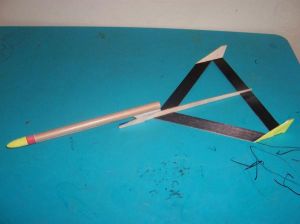 Brief:
This is a boost glider that literally takes minutes to build and isn't all that expensive.
Construction:
The kit comes with a body tube for the engine and pop pod recovery device (streamer), three main body pieces, balsa nose cone, and clay for weighting one fin down to enable it to circle around your launch site instead of taking off a couple miles down wind.
The directions were extremely easy to follow and the entire kit was insanely easy to put together. You almost didn't need the instructions. All of the balsa pieces are laser cut and look very sharp. It's just like putting together a jigsaw puzzle. All I used to put it together was CA glue and some markers to add some of my own flavor.
PROs are that all parts are well cut, easy instructions, and a very basic design so anyone of any ability could piece it together in no time. There aren't any CONs other than that it is pretty delicate. I wouldn't even recommend sanding the balsa at all.
Finishing:
NO PAINT! It adds way too much weight. This is just a little rocket!
Construction Rating: 4 out of 5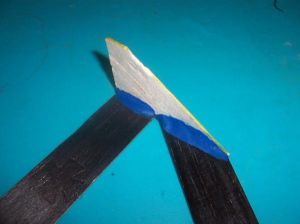 Flight:
Well, before you fly it you really don't know how much clay to use to prevent it from taking off down wind. My first flight I thought was set up perfectly. I had it balanced just like the instructions said but it still flew at least 250 yards over a fence and into a baseball field nearby. And that was only on a 1/2A! I got it back and of course added more weight to the fin. The second flight proved to be still too light on the clay so I added more again. While testing it out by just throwing it gently to see how well it turns, it landed in the grass and snapped just behind the nose area which had to be glued back together. It flew again and was much better, however, it really didn't catch the wind very well. It actually fell into a flat spin for a good 4-5 seconds before it actually started flying. Almost like it was too light! I had really mixed feelings about this kit at this point. It got to be way more frustrating than I thought it would be.
Recovery:
The pop pod streamer was constantly tangling but the tube/nose cone was light enough to safely tumble by itself if it had to. And of course there was the whole glide recovery thing too. That's another job all together.
Flight Rating: 3 out of 5
Summary:
It was not too bad to this point, but that's about as good as it is going to get. The customer service part was absolutely downright terrible--and I don't mean from the hobby shop I bought it from--I mean Edmonds, the manufacturer! I ordered two of these kits 2 weeks before Christmas in hopes of giving one each to my daughter and father so they could build and fly them together while we were home on vacation. Well, both packages were missing the main body tube. How can you miss packing such a thing as the body tubes in both packages? To make a longer story shorter, I didn't get the replacement pieces until nearly March. That's right, March! The online hobby shop I ordered it from no longer carries Edmonds supplies either. I don't think I'd waste my time with Edmonds gliders anymore anyway. They might be easy and convenient to build, but they have absolutely zero durability. It broke twice in the same spot from just me tossing it to see if it glides.
Overall Rating: 2 out of 5