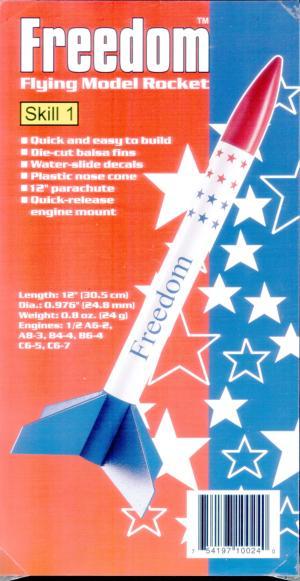 Brief:
Basic 4FNC Skill Level 1 rocket.
Construction:
The kit contains:
Body Tube BT-50, 9" long
Plastic Nose cone
Die-cut Balsa Fins
12" poly chute
standard 18mm engine mount w/ hook
1/8" x 16" elastic shock cord
1/8" x 1-3/8" launch lug
Water-slide decals
Quality of materials was uniformly excellent.
Instructions and illustrations were clear and straightforward.
Finishing:
Includes waterslide decals.
Construction Rating: 5 out of 5
Flight:
I flew it on an A8-3, B6-4, and C6-5. Prep was standard for basic conventional model. Boost was straight and true. There was some drift, which I expected with a 12" parachute in a model this size, but it was not excessive.
Recovery:
Perfect flight after flight, but use a small motor unless you like long walks!
Flight Rating: 5 out of 5
Summary:
Ideal beginner's rocket, reliable sport model, might make a good backup model for PD competition on a small field or windy day.
Overall Rating: 5 out of 5