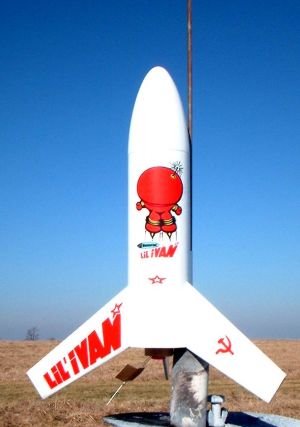 Brief:
Semroc has reintroduced the 1982 Centuri Cold War era Lil' Ivan. Sporting cool looking decals, this basic 3-fin design is a quick and easy build that's a reliable flyer.
Construction:
Semroc kits come in a sealed plastic bag and this one is a numbered edition. (Mine was #19, so I've probably just built a rare collectable.) Parts are very good quality and include laser-cut balsa fins.
Worth noting is that the original kit marked a departure from Centuri tubes, switching to the Estes BT-60 tubing and a PNC-60 nose cone (Big Bertha style). For the reintroduction, Semroc has gone back to the Centuri ST-1650 tube and a balsa nose cone.
Parts list includes:
1 ST-1650 body tube
1 Balsa nose cone/screw eye
3 3/32" laser-cut balsa fins
1 18mm motor tube with engine hook and block
2 20/60 centering rings
Kevlar®/elastic shock cord combo
Crepe paper streamer
Waterslide decals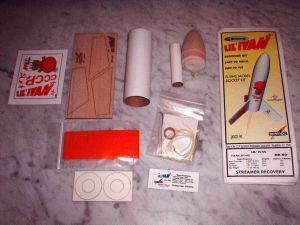 Semroc instructions are clear and easy to follow with fairly helpful illustrations. This being a basic 3FNC kit is a very simple build and would probably rate between a skill level 1 and 2.
The motor mount assembly is a standard 18mm tube with 20/60 centering rings. The Kevlar® shock cord is anchored to the forward tab of the motor hook. This looked a little flimsy to me, but is probably OK. Still, I decided to play it safe and wrap it around the motor tube then slip it forward through the centering ring and bury it underneath the glue fillets.
Fin assembly is pretty easy thanks to the laser-cut fins. Semroc does about the best job of lasering fins I've seen out there. They are easy to remove without any significant burn marks present on the wood. Plus, they have a cool logo and rocket name burned into the pattern sheet. Fins are glued onto the body tube on a 120-degree pattern using a template in the instructions rather than a wrap-around marking guide. I tacked mine on with CA then used a yellow glue fillet. I finished up with a second fillet of white glue. I find that this shrinks and bubbles less than yellow glue, providing a better looking finish.
All that's left of the construction is attaching the launch lug, installing the streamer (which is attached via a tape disk), and putting the screw eye into the nose cone. I'd suggest a heavier-duty attachment method for the streamer like maybe reinforcing it with masking tape.
Finishing:
This model is a breeze to finish. The balsa nose and fins take a bit of work if you want to fill the grain, but for this one I just went with a couple of coats of primer and lots of sanding. I then applied a third coat of primer, sanding down with 600-grit wet/dry paper.
For the top coat, I used two coats of gloss white following the standard scheme. I think the red Russian decals against the white background really are a sharp effect.
The waterslide decals are very good quality but thin and light on the coloring. As easy as this one is to build, you might be tempted to rush the decal application, but be sure to wait at least 48 hours for the paint to fully cure before applying them for the best appearance.
Construction Rating: 4 out of 5
Flight:
Given its fairly tiny size, I went relatively conservative for the first flight with a B6-4. (Normally, I jump right to the max motor choice.) On a clear day with light winds, this raced off the pad though at a weird 15 degree angle but straight the whole way. Ejection was at apogee and the streamer popped out but did not unfurl. Fortunately, it landed in soft grass and there was no damage.
Looking over the streamer, my guess is that it bent and crinkled a bit on the edges when I pushed down the nose cone and this prevented it from unrolling. The streamer is actually taller than the gap between the base of the nose cone and the centering ring, so flight prep and packing is tricky.
For the second flight, I tried wedging the streamer down into the motor tube a little bit, and went with another B6-4. It cooked straight up without a trace of spin, so I'll attribute the funky first flight to motor failure. This time the streamer came out and unfurled just fine though it still came down a bit fast for my comfort. I'd recommend loading at least a 9" chute for future flights but switch back to streamer for using C motors, which would easily send this over 700 feet up.
Recovery:
PROs: Flies great.
CONs: The streamer fits a bit too tight, and it could stand a chute instead.
Flight Rating: 4 out of 5
Summary:
Cool decal and Bertha-like styling make this one of my favorite Semroc kits. I'm going to have to pick up a couple more for bashing, maybe even going 24mm on the next one.
Overall Rating: 4 out of 5