Brief
The Python Fighter was one of a handful of kits produced under the Centuri name using existing Estes parts, kind of a way to familiarize loyal Centuri fans with Estes kits before the Centuri line was dropped for good in the coming years. Only produced from 1981 to 1983, the Python Fighter used the same cockpit nose cone as the Estes kits the Manta Bomber and Attack Craft Orion. I won three of the cones in an Ebay auction lot and immediately set out to build the trio. The Attack Craft Orion and Manta Bomber were easy, as both plans already existed online, the Attack Craft Orion at YORP and the Manta Bomber at JimZ. For a long time these plans didn't exist on any of the plan sites, but Arley Davis finally scanned them for posterity, for which we owe him a debt of thanks.
Components
11" BT-50P main body tube
PNC-50 nose cone
2.75" 18mm motor mount tube
3/32" balsa fin stock
medium snap swivel
12" parachute
24" Kevlar shock cord
24" sewing elastic shock cord 1/8"
launch lug

Construction
While pretty much a 3fnc project, the unique fin structure of the python Fighter makes the build anything but typical. While cool to look at, the completed wingtip fins are fragile and quite prone to breakage if my version is anything of an example. None of the construction is difficult in any way, but anyone with a few flights under their belt will see the problem with having the shield shaped wingtip fins being the first thing to hit the ground at landing.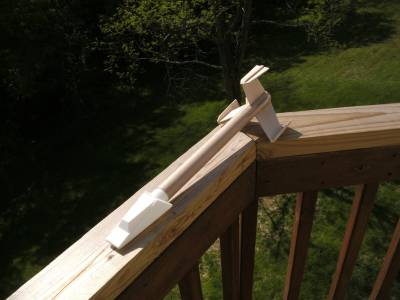 Finishing
The usual suspects of thinned Elmers Fill & Finish, Valspar primer and copious sanding were the ingredients involved in getting the body tube prepped for painting. Painting itself is a breeze as the Python Fighter is one of those rare birds that sports a single color paint job in the catalog photo. I stuck with my tried and true Valspar paints and used Gloss Gull Grey. I was a little concerned about the dull look to the finished bird, but the decals came to the rescue. Decals were bought from Gordon at Excelsior, and supply all of the needed detail and color. They were sprayed with three light coats of Testors Decal Bonder and probably applied better than the originals did.
Construction Score: 3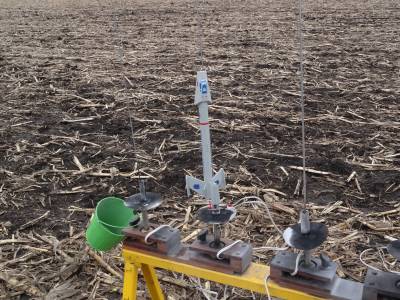 Flight
First flight was on a Quest C6-5 that I'd had rolling around my engine tote for a while. The flight path was odd in that it corkscrewed with the wind instead of into it like every other rocket I flew on the day. Ejection occurred late and the rocket began racing across the field with the wind, hitting hard and flipping through the air, but not enough to concern me. When I reached the landing/crash site, I was surprised to find that I had lost one fin and part of another. The one that had been ripped off lay in the corn, a clean break that should fix simply enough, but the other had the wingtip fin snapped in half, which was going to be a bit more difficult to fix properly.
I flew it again on my home field, this time on a tamer A8-3 WITH a parachute. The flight was perfect from start to finish, topping out at 150' or so, which was what I was hoping for. Lots of previously broken parts on this bird, so I wanted to see if it could withstand the shock of ejection and landing. I was relieved to see nothing floating down at ejection and the landing on the 12" chute looked soft and obviously was. No damage at all. Next time I'll tempt fate a bit more with a B6-4. I think the rocket is draggy enough to keep from overflying the field.

Recovery
This kit was originally sold as a streamer bird, so I decided to try it with a streamer on the first flight. Big mistake. The wingtip fins are set up in a way that makes it very likely that they'll have a short life anyway. They didn't need the help of a streamer landing. I should have known better. The 12" parachute with a reef hole was the way to go, as the second flight can attest to.
Flight Rating: 2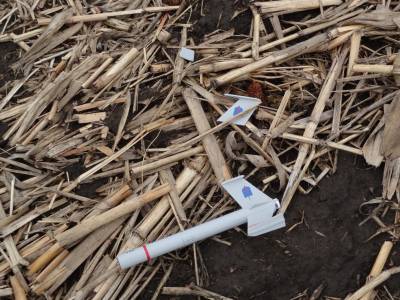 Summary
Pros: Centuri. Anytime you can clone a Centuri bird is a good time, but this one is particularly cool because it uses Estes parts, and was seldom seen enough that it is usually mistaken for a scratch build.
Cons: Badly designed wingtip fins are WAY too fragile for most parachute landings, not to mention a streamer landing like this one calls for.
Overall Rating: 2