Brief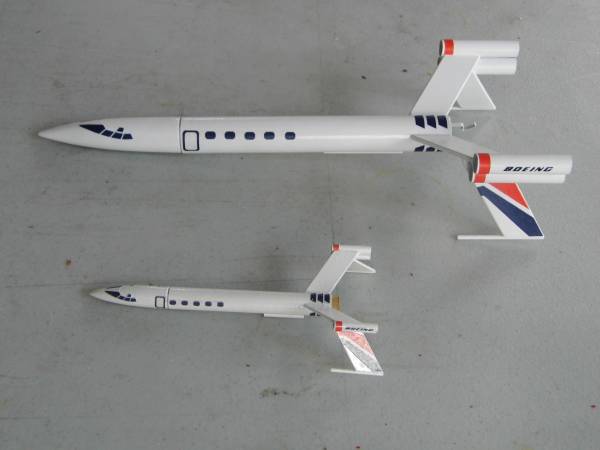 This will be a twin review. The first is a clone of the Star Seeker, one of three rockets that came in the Estes Tri Pack (0866) [1983-1990]. I built the original three rockets back in '84 and really liked the Star Seeker the most but it got lost after my 2nd divorce so I decided to bring it back from the grave so to speak. The second part will be a review of its 2x upscaled big brother.
Components
For the Clone:
1- BT-5 (4" long)
1- BNC-5 (2 1/4" long hand made)
1- Small Screw eye
2- Small Washers (for nose weight)
1- 1/16" x 18" Elastic Cord
5- Launch Lugs (1" long)
1- Small Sheet 1/16" Balsa (for cutting out fins)
2- Toothpicks (cut to 1 1/4" long)
1- Sheet Printer Paper (for decals)
For the 2X Upscale:
1- 1" dia. tube (that I salvaged from somewhere) cut to 8"
1- Hand made NC (4 1/2" long)
1- Small Screw eye
1- 1/8" x 36" Elastic Cord
1- Small Fishing Swivel
1- 12" Yellow Nylon Drag Parachute
4- BT-5 Tubes (2 1/2" long)
1- BT-20 Tube (2 3/4" long) for engine mounting
1- Engine Hook (from Estes)
2- CRs (hand made)
5- Engine Stop Blocks (hand made)
1- 3/16" Launch Lug
1- Small sheet 1/8" balsa(for making the fins)
2- Wood dowels 2 1/2" long (cut from a large stick of incense)
1- Sheet Printer Paper (for decals)
Construction
So here it is, end of July and I started this project after the 4th of July Holidays. My original plan was to do a side by side build of the two rockets and not bother with a write-up but as often happens to me I started the clone on a whim (more like boredom) and had it finished and started on the upscale before I thought to grab the camera. The second one I had planned on building with a BT-60 in mind. That all changed after going over the numbers and looking at what tubes I had in stock.
I cloned the 1st from the plans on JimZ's web site (http://www.spacemodeling.org/JimZ/est0866.htm) and followed the instructions except for step 4. Here I deviated from the plans and installed a standard tri-fold paper mount with 1/8" elastic instead of the rubber that Estes uses. Two other changes that I made were to make my own balsa nose cone (again I should have taken pictures) in place of the plastic one that came with the original kit and to add a spare orange plastic streamer (which was not easy in so small a rocket). I added the streamer because I remember my original one breaking off a wing after hitting the ground hard from a high flight on an A10-3T.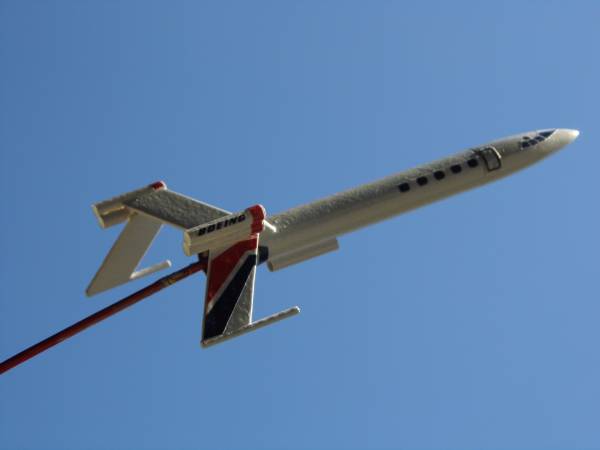 Star Seeker Clone
Now on to the 2x Upscale.
I'm not going into the build for this one in this review. If you want to read the complete build for this one, click on the link below.
http://www.rocketreviews.com/estes-star-seeker-clone--upscale.html
Finishing
The painting was done in standard prime, sand, prime, sand, light prime then 2 coats of Krylon gloss white. Decals were then downloaded and run through Windows Paint to clean up and size, then after printing them out on standard paper they were clear coated. I then cut them out and attached them with a glue stick. Rocket was then given a coat of Krylon Clear Gloss to seal on decals. Finally the finished rockets received 2 coats of Dupli-color's Clear EFFEX spray paint to give them some sparkle.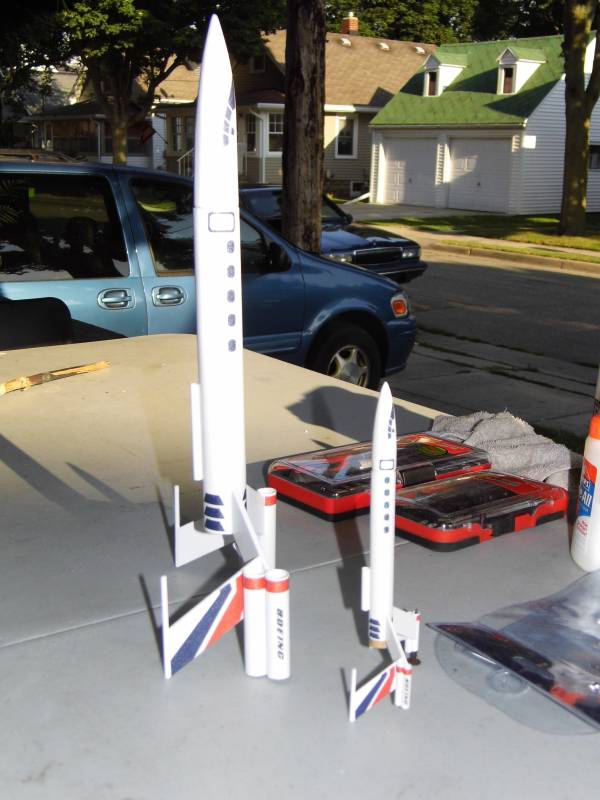 Construction Score: 5
Flight
On 5-17-10 I finally got out to fly these two with a couple of the guys from H.U.V.A.R.S. at a club launch in New Hudson, MI. First up was the Star Seeker clone on an A10-3T. Temp. was in the upper 50's with winds between 5-10 MPH. Waited for a lull then gave the count down and hit the fire button. Rocket quickly tried to vanish from sight but was able to track it to apogee where ejection charge fired. The streamer I added did not unroll but rocket fell at a slow enough speed that it landed with no damage. Will have to decide now if I want to leave the streamer in or not.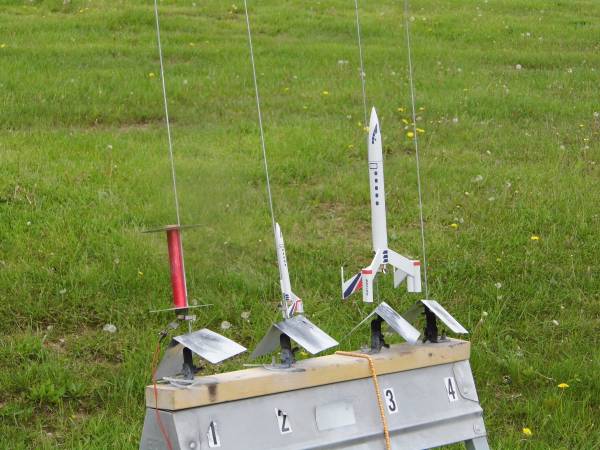 Star Seeker clone on pad 2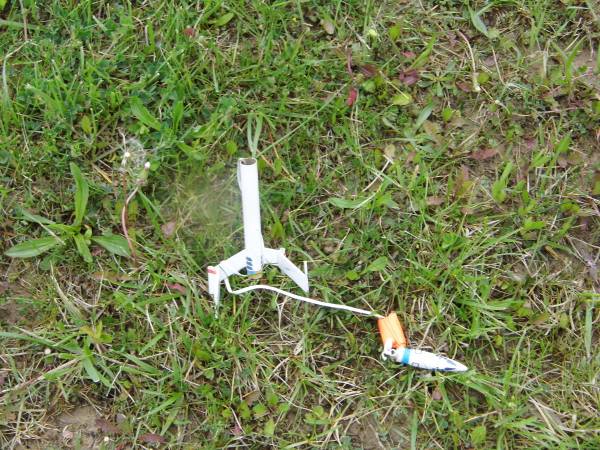 Star Seeker recovery (Note that streamer is still rolled up)

Next up was the 2x upscale. Due to the smaller size field than I was hoping for and the wind picking up a bit I decided to limit maiden flight to just the core motor with only a B6-4. (Note: In case you didn't read the build for this one, it has an 18mm main motor mount and four 13mm mounts in the wing tips.) Great boost with rocket almost vanishing in the sky just like its little brother. Heard the pop at apogee and saw the chute eject.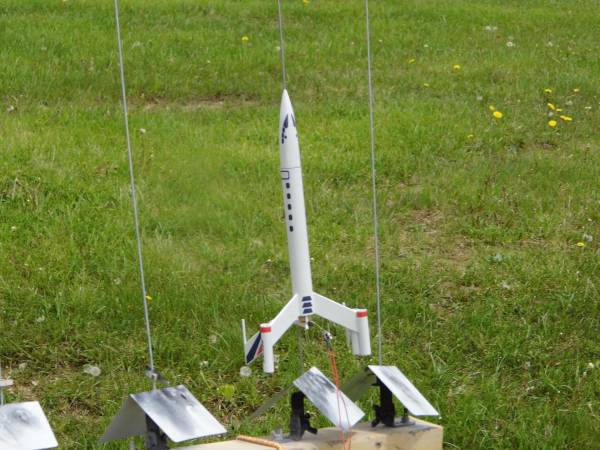 2x Upscale in 5...4...3...
Recovery
Parachute ejected but it seemed to have a problem and would not open properly. Rocket came down hard and suffered heavy damage. Recovery showed why parachute malfunctioned. About 8" above the end of the BT the shock cord was melted to the parachute in one tiny spot. As for the rocket itself the right wing was ripped off but in one piece. The left wing however was ripped lose but not off but had the wood dowel on the wing tip broken off. Will require some work to repair but nothing that can't be fixed. Will be flown again. Hopefully with all five motors.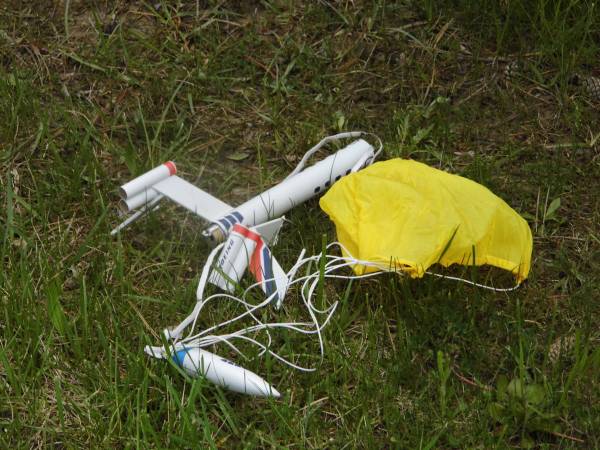 Star Seeker 2x upscale recovery

Flight Rating: 4
Summary
Both the clone and 2x upscale were fun and easy builds that not only look great but fly great. I still want to try the 2x upscale with all five motors but after seeing damage from maiden flight I'm having second thoughts as to if it can handle them with the extra weight. Will have to try a couple more single engine flights for the 2x upscale for recovery system tests before going all out with all 5 motors.
Overall Rating: 5