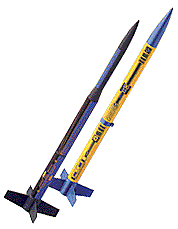 Brief:
I received the Estes X-Flyers as a gift from our neighbor Zachary. The kit is one of Estes Ready-Built series and includes two rockets, one yellow and blue, and one black and purple. This kit was packaged in plastic and came in a box and cost $14.99. A pretty good deal for two rockets.
Construction:
No construction on a Ready Built just attach the chute and jam in an engine.
Finishing:
The X-Flyers are cool looking, nice colors and very sleek and futuristic looking. The only issue I have with the rockets is the body tubes are a tight fit for parachutes. These rockets are light and may have been better with streamers.
Construction Rating: 4
Flight:
Both rockets received Estes A8-3 engines. They were out of site because of the sleek style, manufactured finish and light weight. Both rockets performed very well.
Recovery:
The second flight of the purple and black X-Flyer came down fast on a tangled chute. Both were recovered no damage. If you use a B or C engine have lots of spotters and big field.
Flight Rating: 4
Summary:
Overall the X-Flyers receive a solid four. Two rockets for the price of one, you can get out and launch immediately and they rock on an A8-3. Cons are they may drift far on a chute (especially if you use a C engine) and secondly the narrow body tubes.
Overall Rating: 4