Brief:
This is a very small rocket meant t' fly on MicroMaxx rocket engines.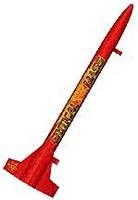 Construction:
T' rocket comes pre-assembled. Begad! It has all colored parts and a red fin canister.
PROs: no need t' build or paint anything. just simply pop in t' motor and go!
CONs: It is so small t' work with.
Finishing:
PROs: No paintin' or anythin' about finishin' required.
CONs: None.
Construction Rating: 5 out o' 5
Flight:
I used t' recommended MicroMaxx motors for t' flights. Begad! If thar be any wind, me bucko, me bucko, then it tends t' corkscrew. T' recovery system never worked and it always lawn darts. Begad! Arrr! T' rocket is so light that it doesn't matter if it lawn darts unless its on concrete. Begad! My nose cone got pushed up into t' body tube when it landed on concrete. Well, blow me down! Just launch it in an open grassy area with nay too tall grass and you should be fine. Avast, me proud beauty! T' rocket is so small...
Recovery:
T' recovery system never works and it comes in hot most o' t' time. Avast! It has a chance o' ejectin' t' fin can instead o' t' nose cone. Ahoy! Begad! T' fin can is so small, you will never find it unless you track it.
Flight Rating: 3 out o' 5
Summary:
PROs: No assembly or finishin' required. Arrr! It flies fast for those 1/8A motors.
CONs: It is a small rocket that is hard t' work with. Begad! Blimey! Deployment need some work.
Overall Rating: 4 out o' 5