Brief:
A ten finned 13mm rocket and is quite large for its motor size. Recovers via a 12 inch parachute
Construction:
Kit consists of:
1 launch lug.
Estes paper shock cord mount
Estes 12 inch parachute
2 foot length elastic shock cord
Nose cone
Shroud lines
Body tube
Engine mount tube
Engine hook
Pre-cut balsa fins
Paper adapter rings
Decal sheet
To build the kit I used:
CA gel glue
Model knife
Aluminum oxide sand paper
White PVA glue
Enamel spray paint
Varnish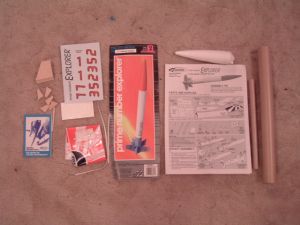 Builds pretty much like most of the basic Estes kits. The instructions are clear and straightforward. The inner motor mount tube (BT-5) is quite long, and I assume that this to allow for the smaller ejection charge on a 13mm motor. The only problem I had was filleting the fins--there are ten of them, which does not leave much room to get in and smooth over the joint's fillets. In hindsight, I would have glued on just the five larger fins and filleted them before gluing on the five smaller fins. Recovery system uses a 12 inch parachute and the standard Estes paper shock cord mount. Instead I replaced the paper mount with a Kevlar® thread tied to the upper adaptor ring and the other end tied to the shock cord. I added a snap swivel for the parachute.
The only other modification was to ditch the engine hook, which can effect the engine's thrust on 13mm motors and replace it with an engine block.

Finishing:
One coat of primer. Three coats of red gloss for the nose cone. Three coats of white gloss for the tube. Two coats of blue gloss to the bottom of the rocket. Waterslide decals are supplied which went on well. Finished with a coat of varnish.
Construction Rating: 4 out of 5
Flight:
Flies on an A10-3T or A3-4T. I used Nomex® wadding. I've only flown on A10-3T motors. Flights are nice and straight and come off the pad at a good but trackable speed. For a 13mm motor this is a sizable rocket, but she easily grabs 200 feet.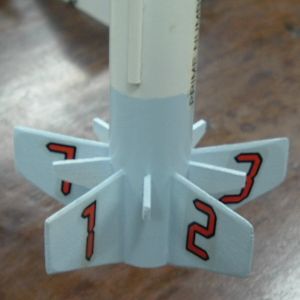 Recovery:
Deployment on all flights so far has been past apogee by about 1 second. However, this might be due to the heavier wadding, swivel, and finish. Recovery is on a 12 inch parachute at a steady rate of descent. This rocket is too heavy for a steamer.
Flight Rating: 5 out of 5
Summary:
A good size rocket that performs very well considering it is on a 13mm motor. The ten fins make it a bit unusual.
Overall Rating: 4 out of 5