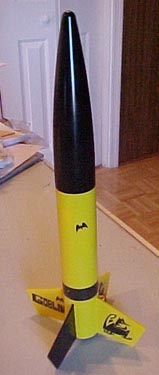 Brief:
This is a clone of the famous Estes Goblin.
Construction:
The kit includes 1 BT, 4 precut balsa fins, plywood CR's, an exact replica of the Estes Goblin nose cone, a 1/4 inch launch lug, Kevlar shock cord and a 12 inch nylon parachute.
The instructions are poor but then who needs them? I think I had this kit together in less than an hour. I used Titebond wood glue for the assembly and sanded the fins.
Finishing:
I also used some sandable primer before painting. Some light sanding and several coats of Rustoleum yellow finished it off. The decals were difficult at best. I had to clear coat it after the decals to keep them on.
Construction Rating: 4 out of 5
Flight:
She flew nice on D12-5's. The delay could have been a little longer but that's all I had. You better have a BIG field on this because it sims at over 1300 feet. (it looked higher).
Recovery:
Nice recovery on the chute.
Flight Rating: 5 out of 5
Summary:
It was nice building an Estes size kit with plywood centering rings and a nylon chute. You can't tell its a clone unless you look close. The biggest problem was the decals. What can I say, they suck.
Overall Rating: 4 out of 5