Brief:
Basic starter cluster mid powered rocket kit.
Construction:
Two body tubes at 2.25 in diameter, balsa nose cone, three 1/8" plywood fins, huge payload section, 6 foot elastic shock cord, 16" round paper parachute
Instructions were pretty basic, but if you didn't know what a coupler tube was or a bulkhead then you might have some trouble. All the illustrations looks like they were hand drawn. It is a really simple rocket to build though. Basic set up with three fins and a nose cone. The 3 motor mount tubes fit perfectly into the body and there is no need for centering rings. The hardest part about this kit is trying to center the motor mount tubes onto the bulkhead evenly. It's not pre measured for you, and the bulkhead was the same diameter as the outside of the tube, which had me sanding it to fit. Just don't sand too much or you'll get gaps between the inside of the tube and your bulkhead.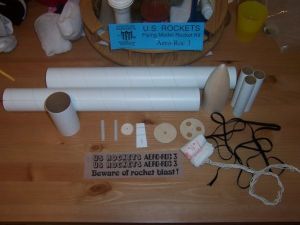 Finishing:
There was no color picture of the rocket on the packaging so painting was completely left up to the builder. I painted it red, white, and blue with red on the motor mount tubes. It came with some sticker decals, no frills. They just say U.S. Rockets Aero-Roc 3. Kind of small for the size of the rocket I thought.
Construction Rating: 3 out of 5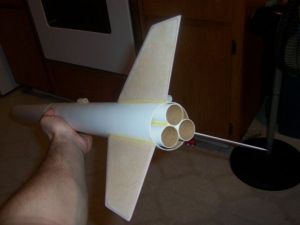 Flight:
I flew it first on three Estes D12-5s. Nice straight flight and being my first cluster, I was thrilled. Figure it went to about 700'. Then I flew it on 3 Estes E9-8s and that was fun. It screamed into the sky to about 1500' and sounded like a jet. Very straight and fast flight. Both recovery's were picture perfect. I would recommend switching to a Kevlar® cord instead of the supplied elastic one. I didn't use quite enough wadding and the blast from three ejection charges scorched the cord a bit. Not too many flights left on that one so I'll be switching it soon.
Recovery:
Probably the only thing I didn't like about the kit is the lack of motor retention. There aren't any hooks to hold them in so you have to use some masking tape on the motor itself. Also, since the motor tube is so long you run into the possibility of the motor shooting 2 inches into the tubes requiring you to ram rod them out.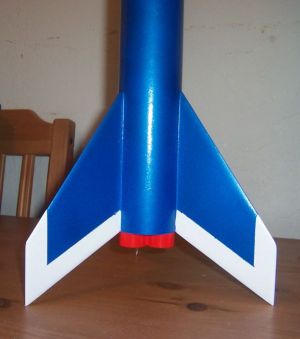 Flight Rating: 4 out of 5
Summary:
Very good rating on this kit as far as a beginner's mid power rocket and a great introduction to clustering. Stupendous flights and a durable airframe make for many flights in the future. Also there is plenty of payload room for anything you want--you could put a full dozen eggs in it, no yoke!
Overall Rating: 4 out of 5