Brief
This is a quick to fly, ready-built model. An easily removed engine mount holds the mini engine and is recovered by streamer. The main body is tumble recovery.
Construction
There wasn't much to do before you were ready to fly. Add clay weights to the 4 rear 'engines' and CA the 4 small fins and then you are ready for finishing.
Finishing
A decal pack came with no guidance as to where they were to be placed. They were obviously battle scars for your X-Wing so I applied them in almost a random pattern.
Construction Rating: 3 out of 5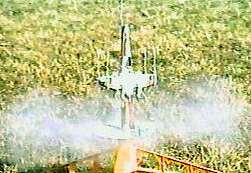 Flight
The first flight up was beautiful. It is not a high flier and with the mini-engines the ride was over quickly. I wasn't prepared for the landing. The engine pod ejected and the streamer barely unfurled. It fell like a stone due to the weight of the engine casing and the presence of a metal shaft in its construction. The body also came down frighteningly fast but neither piece suffered damage.
On the second flight the metal weight broke off the engine pod. My mistake was to glue it together with model cement instead of CA. The third launch ended with the ejection charge blowing the metal piece out the body of the rocket. As I figure it, I have one more launch before the electrical tape gives out.
Recovery
I dislike streamers. The recovery method of the engine pod was insufficient for its weight.
Flight Rating: 3 out of 5
Summary
I liked that it was very close to the X-Wing in the movies. It flew straight and was easy to get going. Breaking as it landed sort of ruined the nice feelings I was having
UPDATE 7/99:
After writing this review, I purchased another pair of these X Wings on eBay. I had assumed that I was the cause of the problems that I was experiencing with these rockets. After reading the guest comments and my further experience, I must agree that these rockets are too dangerous to launch. However, I can't resist the idea of sending these up again but without the original engine pod. I would appreciate your ideas about designing a replacement recovery system and engine mount. Please contact me.
Overall Rating: 3 out of 5