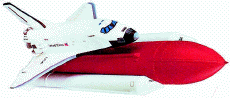 Brief:
One stage scale model of the US Space Shuttle, LPR with 18" parachute
Construction:
The model comes with 3 body tubes to construct the booster rockets that the shuttle rests on, numerous vacuum formed plastic parts and a sheet of balsa.
Most other parts are standard, ie motor mounts, lugs, centering rings etc.
Lets start with the Cons:
Instructions are in both german and english however they are set out so that you follow a step by step guide of pictures with a separate booklet of what to do.This makes building slightly more lengthy as you have to always have two sets of instructions out to know what to do.

The vacuum formed parts are made from cheap plastic that needs a great deal of time and care spent on it to perfect the final look, however its well worth the time

My kit had a part missing nothing big just a strengthening ring made of cardboard easily simulated by other materials lying about anyones house, however the web site for Das is not in english and
has no number to call.

Finally the decals were slightly out of date and an off white colour. Also they were stickers like most these days. BRING BACK TRANSFERS!
Pros:
A challenging and worthy build

Better final product than that of the Estes space shuttle and of better value for money

Great fly, unfortunately the pictures i took did not come out however it flies well!
Finishing:
Finishing needs special attention if the desired final product is that of a scale space shttle. It needs undercoating a few times, and lots of gloss to make it look good.
The balsa needs attention too because it needs to be 'closed' before spraying. The rocket boosters need to be painted and detailed before being stuck together something the instructions do not pick up on. This can cause glue showing on the final product if care is not taken.
The shock cord although better than Estes needs to be replaced as does the parachute however for successive flights this is normal on most rocket kits.
Construction Rating: 4 out of 5
Flight:
It flies well with its add in fins similar to that provided for the Estes Mercury Atlas rocket. The boosters come down safely via parachute and the glider desends fast and safely, if not a little steep! However this is probably a build issue on my behalf and nothing manufactured.
I have only flown it once and so cannot comment too much but it all came down safely and undamaged which is always nice! It was flown on D12-3 motors!
Recovery:
As mentioned before, replacement of parachute and shock cord makes for a better recovery and ease of another flight with minimal damage to the recovery system
Flight Rating: 4 out of 5
Summary:
A good rocket for a confident and good builder, balsa is not laser cut and has to be templated and cut out manually which adds to the fun of making it in my opinion! A challenging and fun build.
Overall Rating: 4 out of 5