Brief:
Mig 15 looking Boost-Glider with a Streamer recovery nose cone that is jettisoned and Glider recovery of main rocket. Made by Century around 1972.
Construction:
Construction had some "Guesses" associated with it as the plans were not for scratch building but, came as an instruction sheet for a factory kit with all tubes cut to length and ready for assembly. The sheets came with a template of the wings and tail assembly that helped some. There was a few measurements mentioned and the rest was guesswork.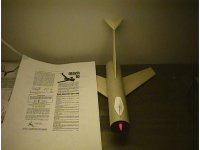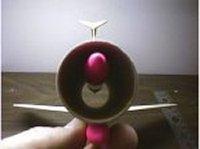 The rocket was easy to build and quite a bit of fun. I hate that today's kits are so "Pre-Fab". It takes a lot of the fun out of building a rocket. Everything is pretty straight forward in construction, and the designers did a good job in the sturdiness area as well. No surprises, and no "Special Tools" needed. Exacto, sandpaper, glue, a BT 60 and some other stray pieces most of us have laying around. Need a package of those little NC20 nose cones, and two of the small ones like used on the Mosquito for the belly tank.
Finishing:
I didn't use any finish on my rocket. The plans say to NOT use fillers if you do plan to paint. I painted the nose cones orange to see them better.
Construction Rating: 3 out of 5
Flight:
Recommended motors are the A and B short delays 2-3 sec. Preparation is like any other rocket, placing the motor in the small inside tube and putting in an ignitor. The motor tube uses a standard Estes style motor retainer clip. Since the small internal nose cone comes out, the tube needs wadding and a streamer for recovery. The plans call this nose cone the "Target Marker" - I call it "Hard To Find".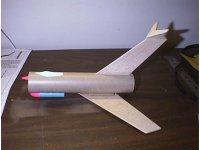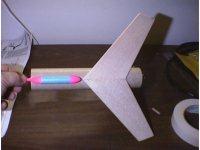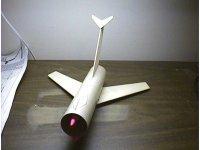 First launch was fairly straight. Second was a little interesting. The rocket needs to be launched with some rod angle due to the vertical fin configuration which is very "Draggey" and wants to pull the rocket like an elevator on a real airplane. At burnout the nose cone is ejected, and the rest has a "Type" of glide. It is fairly fast and not a duration glider. It took three flights to get the nose weight right and once it glides well - leave it alone. Trying to remove weight to slow glide and increase duration will only make it worse, not better. It will! take some adjusting.
Recovery:
Recovery is a fast glide for rocket with streamer recovery for nose cone. It is very durable and it takes a licking and comes back for more. I did break off the vertical fin on one flight when it hit my metal shed. A little glue and it was flying again. Glide is fairly straight and when I used a C with 3 Sec. delay it went about 1/16 of a mile (Away from me) After nearly a dozen flights, you can't see any noticeable wear. It should last a long time.
Flight Rating: 2 out of 5
Summary:
Rocket is easy to build, yet fun. I liked the building of the rocket, and the fact it is not a straight tube with fins. It looks neat, and is a real attention getter. It is well designed for durability, and easy to fix if damaged. It would be nice if the glide was a little slower and you could trim for a circling flight.
Overall Rating: 3 out of 5