(
Contributed
- by Dick Stafford - 08/31/09)
Brief:
This is a conversion for a MicroMaxx Alien UFO for 18mm power. Since I have two, I thought I'd cut and grind one of them up.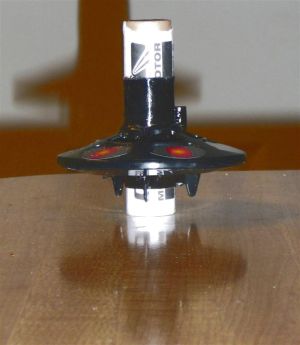 Modifications:
I basically just cut and ground out the center of the saucer and glued in the 18mm tube.
Construction:
Parts used:
One Quest Alien UFO
1-1/2" of BT-20
1/8" lug
scrap styrene
fiber ring, 18mm+
I cut the MicroMaxx motor mount out with my mini-Leatherman and then took the Dremel to the inner ring until the 18mm tube fit. The cuts are shown in the following photos.
The connection point for the lower fins were weakened so I added some supports cut from a scrap plastic model. These were attached with plastic model glue and the rest was built with 5-minute epoxy. I next attached a fiber ring on the outside of the 18mm tube. This fits in between the inner ring and the lower fins. I used 5-minute epoxy to fill the small space between the top ring and the motor tube. Fillets were also added to the point where the fins touch the motor tube. A 1/8" launch lug completed the mod.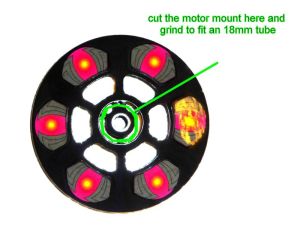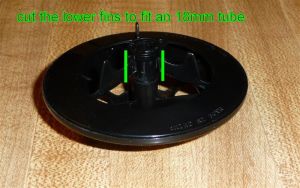 Finishing:
I painted the tube and lug with black Testor's brush-on paint.
Flight and Recovery:
I flew the modified saucer on Quest 'long burn' C6-3 motors. The only prep was a tape thrust ring and, of course, the igniter. This little thing really scoots and is far from the low and slow flight you get from a standard 18mm saucer.
The ejection charge went off while it was still quite high and each time it landed very close to the pad.
Summary:
This is an easy mod, it raises eyebrows, and it flies great. The only con is that, if you like slow saucer flights, this one isn't.