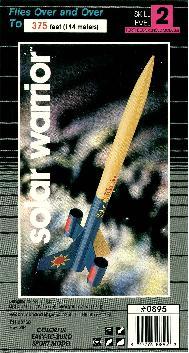 Brief:
In 1994 when I was born again. I found this exotic, skill level 2, single-stage rocket at a hobby shop going out of business. It was the first rocket that I built that actually looked like the picture in the kit. I have built a few more Solar Warriors since but I still fly the original one.
Construction:
The kit comes with a BT-20 body tube (9.75 inches in length) and two BT-20 (1.5 inches in length) pod tubes to be attached at the end of the wings, die-cut balsa sheet, motor mount, decals, nose cone, streamer and a short piece of shock cord.
The instructions were very clear and came with many illustrations. Assembly is very straightforward but there are to things that make construction easy. First glue the extension to the rudder BEFORE gluing the rudder to body tube. Use a ruler to make sure the bottoms of the extension and the rudder are even. Second, glue the wings to the rocket first and make sure they are straight. Then you can lay the body on a flat surface to attach the pods to the wings. Completing the rest of the rocket presents no difficulty.
Finishing:
After letting the fillets to dry, a couple of coats of sanding sealer and sanding you are ready to paint. I like to use Krylon primer and paints because you can pretty much apply a second coat any time and I tend to get impatient waiting 24 hours for a second coat or paint. The only con to Krylon paint is that it does not work well with other paints. I used a copy of coats of white primer. I masked off the vertical fin on the bottom of the rocket and top of the body tube 4.5 inches from the top. I painted this portion blue. After the paint had dried over night I masked off the painted part and coated the remaining parts yellow. After the paint had dried I applied the decals. Instead of using a clear coat to finish the rocket I used Future Floor Finish. Once completed, it looked great.
Construction Rating: 5 out of 5
Flight:
I have flown the original rocket on both A3-4T and A10-3T's 17 times. The rocket always flies nice and straight. Even in windy conditions it does not wind cock. Recovery is not always as planned. When it is extremely hot 100 degrees plus or below freezing the streamer tends to not unravel. The rocket does fine with tumble recovery. I have recently built a Solar Warrior modified to use 18mm motor as the one posted on EMRR. I have flown it on A8-3's and B4-4's with no problems.
Flight Rating: 5 out of 5
Summary:
Overall, the Solar Warrior is a nice rocket. Easy to build, looked good and flies great.
Overall Rating: 5 out of 5