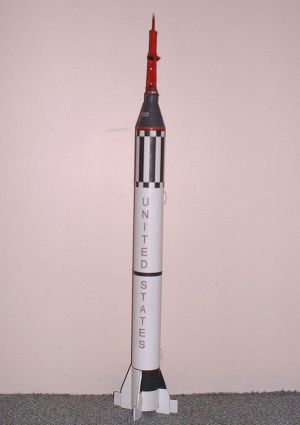 Brief:
A fine looking, fine flying replica of the historical Mercury program, made with the builder in mind.
Construction:
This was my first Dr. Zooch kit, and I have to say I was more than pleasantly surprised at how this turned out. If you're new to Dr. Zooch, this is a fine place to start. It's supposed to be a fairly easy build and if you follow the instructions carefully, you'll get there even if new to paper-wrap models. It's also one of the largest Dr.Z kits so the level of detail really works.
The kit arrives in a small box with all the tubing, paper wraps, and materials needed to make a great looking Redstone. First surprise: you don't get one Mercury mission possibility, you get to choose one from all of them from Alan Sheppard's Freedom 7 to Gus Grissom's Liberty Bell 7 and the unmanned "boilerplate" test missions. I chose Gus' Liberty Bell. Maybe it was Dr. Zooch's frequent warnings not to be a "squirming hatch-blower'...(more about that later). The instructions are a highlight of the Dr. Zooch experience--some humorous remarks had me laughing out loud. But read them for fun a couple of times before starting the build is my advice. There's a reason why Dr. Z does things in that order.
Construction of the capsule is first according to the instructions and as stated by Dr. Z, gets your confidence up right away. The strong paper wraps are printed such as to give the illusion of texture. All part of the illusion and it works. They slip over a rough balsa cone, which you pre-paint to ensure no bare wood shows below the wrap and there you go, a fine looking capsule.
Dr. Z gives neat tips along the way like using a plain lead pencil to rub in any seam lines in the capsule paper. Very effective and easy. Of course attached to the capsule is the escape tower, which Dr. Z tries to prepare the builder for ahead of time with dire warnings of frustration to come and so on...but its all in good humor. Take your time, lay out the wooden rods in the right place with the provided template, and it all comes together. Surprise number two: even if some measurements are a bit off, the way Dr. Z has designed the kit makes it easy to cover up errors in the finishing, and thus "maintain the illusion". It doesn't matter if the tower isn't exact scale, to any observer a safe distance from my launch stand or trophy shelf) that is Gus' Liberty Bell rarin' to go.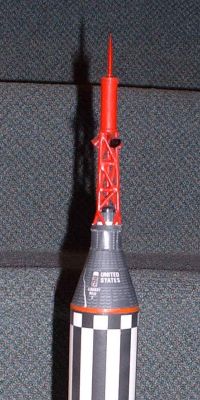 The body tube is prepped with the usual white paint. (I sprayed indoors so I used water-based Krylon H20 spray for the first time. I am pretty happy with it.) The top roll-mark wrap went on easily. One problem I had was with a small conical adapter which goes on the body tube just under the capsule. I cut the paper out wrong and it looked terribly crooked so I went without it. Hard to notice. However a word of caution is that some paper parts like the adapter are small enough that they can be a bit frustrating at first. Take your time, use tweezers if needed and it'll all work out.
The remaining body stripe, wrap, and decals are easy enough. Installing the engine mount is also straightforward.
The fins go together fairly easily but were the source of my perhaps one and only gripe with the kit design. I would have preferred each entire fin to be one piece, but Dr. Z has us cut the fins, then add the steering vanes separately. I could have made a new one piece set with my own material but decided to leave well enough alone.
Neat detail: The launch lugs go on balsa standoffs (first time I've seen this) so there's no drag of the body on launch rods. Very cool.
Modifications from stock instructions:
I modified my engine mount for side-discharge ejection. This cuts way down on wadding usage. Typically I glue a piece of 18mm tubing about an inch long to the end block of most mounts then close off the end with an epoxied wooden disc. Then I drill lots of holes in the sides of the one inch extension tube. This "baffle pipe" is on most of my models and works well. For engine mounts without a block (just a clip), you can baffle the mount tube itself above the clip. So far so good but I caution: more testing is required. If you do this, glue it strong...so it doesn't blow itself to bits.
I also added a "parachute floor" (disc full of holes halfway up the tube).
Finishing:
The body tube under the wraps is plain white. Make sure to seal and prime and smooth out any grooves/imperfections. For the black and white pattern on the fins to match the wrap, it would have been nice if Dr. Z had provided decals to make the pattern easy. And I hate masking and painting odd shapes so instead I used peel 'n' stick black vinyl from the auto store to do the fin pattern. Once all the decals and markings are in place, I used gloss clearcoat to seal it all up. Once dry, I then applied some semi-flat base clearcoat to "soften" the shine and make the whole assembly appear a bit less "plastic" . This is all optional but I found that this also helps conceal or at least soften the edges of the wraps, so this finish works well for the Dr. Zooch kit.
Once the finish is complete, and the usual shock cord is hooked up, you're ready to pack a 'chute and go flying!
Construction Rating: 5 out of 5
Flight and Recovery:
As I mentioned, Dr. Z cautions builders not to be a "Squirming hatch-blower" and go for it with a C6-5. Well for fear of being squirming, I conducted first flight with a B6-4. My logic was I just didn't know how high this would go, and we have a really small field to launch from...so away we went. What a flight. A little slow on the takeoff, looked great. Beautiful flight, deployed the chute just arcing over nicely for a controlled descent and touchdown only 50 feet away. Wow. A-OK.
Second flight: C6-5. This was an even better flight. I'd guess 500-600 feet or so. Ejection was great, but unfortunately it revealed an incorrectly packed chute and a shroud became entangled. The rocket spun rapidly on a descent rate outside of NASA specifications. Luckily, Liberty Bell 7 was safe and is ready to fly again. The hatch was not blown. Or to quote Chuck Yeager in "The Right Stuff" (as I've been dying to): "Ol' Gus..he did OK..."
I can't wait to fly this one again. Now I'm even thinking of buying another one to modify up to 24mm engines so I can try a C11.
Flight Rating: 5 out of 5
Summary:
This is the reason I got into rocketry in the first place. History, model building with a bit of detail challenge, and by the way, very economical price. It builds well, it displays well, it flies great. Dr. Zooch delivers the goods. I can't wait to try another Dr. Z kit!
Overall Rating: 5 out of 5