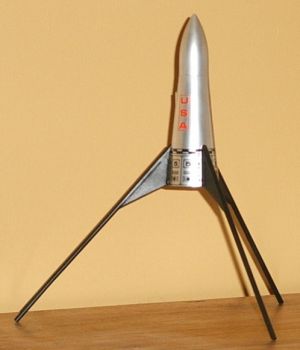 Brief:
The Custom Galileo is a cute little helicopter recovery rocket. Mine was an Father's Day gift from my wife. This is a skill level 2 rocket.
Construction:
The kit contains standard BT-20 tube and ogive balsa cone, three small balsa fins, dowels, paper centering ring and transition, and nice waterslide decals.
The instruction sheet was clear, logical, and easy to read. I was able to complete the rocket (except for finishing) in about a two hour period. I really can't complain about the build... It was easy and quick.
The model has a really large launch lug with a beefy standoff (required due to the conical shape of the model), which is rather unsightly.
Finishing:
The nose cone took a while to get smooth (I generally just use primer rather than mail-ordering sanding sealer) and getting the seam in the transition smooth was also a chore. I really can't complain about this though, as this sort of thing is always a chore.
Construction Rating: 5 out of 5
Flight:
Custom recommends 1/2A6-2 or A8-3 for this rocket. I didn't have the smaller engine handy, so I launched with an A8-3. Prepping this rocket is about as easy as it can be... Stick in the engine, install the igniter, and go. I did have to put a little tape on the engine to keep it from falling out (a problem I've never seen on any other rocket before).
The rocket arced badly as soon as it came off the rod, performing the "St. Louis Arch" maneuver into a neighboring field overgrown with weeds. Sadly, it was lost. The air was very still when I launched, and I launched other rockets after it without problem, so I'm not sure what went wrong.
Recovery:
No comment (since I didn't get it back).
Flight Rating: 2 out of 5
Summary:
My major complaint about this otherwise nice little rocket is the massive launch lug and standoff. I am suspicious that this may be related to the poor flight characteristics of the model. I'm planning to replace the rocket, but I'll be modifying the next one to hide the lug inside the transition. This would be a nice from-the-factory modification, actually.
Overall Rating: 4 out of 5