Brief:
The Public Missiles, Ltd. Phobos is one of the great, easy to build mid and high power rockets out there you can buy. This rocket can be launched on any where from a F40 all the way up to a J570 if you get it with the 38mm motor mount. This is probably the best rocket to use for your Level 1 cert attempt, which I used it for. The only down side to this kit is you have to clean out the main airframe after every two flights due to the ejection charge.
Construction:
The Phobos kit contains all the parts necessary to build a flying mid/high power rocket:
1 pre-slotted main airframe
1 payload airframe
1 airframe coupler tube
1 coupler bulkplate
1 coupler hardware set, consisting of:

1 Eyebolt
1 Washer
2 Nuts

1 nose cone
3 G10 fins
1 piston ejection kit, consisting of:

1 piston tube
1 slotted bulkplate
1 piston strap

1 D-ring
1 parachute
1 motor mount tube
1 airframe to MMT centering ring
1 notched airframe to MMT centering ring
1 shock cord
2 launch lugs
1 decal sheet
1 instruction sheet
The construction of this rocket went together like any other high power rocket. The only problem I ran into was trying to get the strap for the piston ejection system through the notched centering ring.
Finishing:
The finish was super easy. Just sand it and paint it.
Construction Rating: 5 out of 5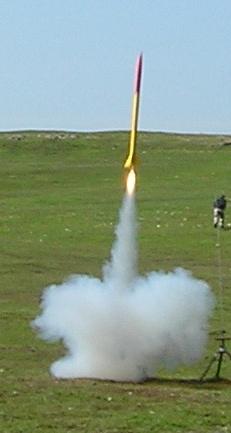 Flight:
First flight was on a F40-4W. It was a perfect flight to about 300 feet except the motor casing kicked. (I did find the motor.)
Second flight was successful on a H165R-M for my NAR Level 1 certification.
Third flight was with a G64-7W. Yet another perfect flight and perfect recovery except it hit a person's truck and broke a fin off.
The fourth flight was a H180W-M. WOW! Out of sight! I almost lost it but I was able to regain sight of it as it came back down on with a tangled parachute. It landed hard but with no damage.
Recovery:
The recoveries are good but a little too fast for my liking. The only thing I would change about the recovery is up grade to a 48 inch parachute instead of a 36 inch parachute.
Flight Rating: 4 out of 5
Summary:
The main PROs of this kit are:
Easy to build
Easy to finish
Great for flying on G and H motors
The cons are:
Hard to put the piston strap through the notched centering ring
Falls to fast with a 36 inch parachute
Overall Rating: 4 out of 5