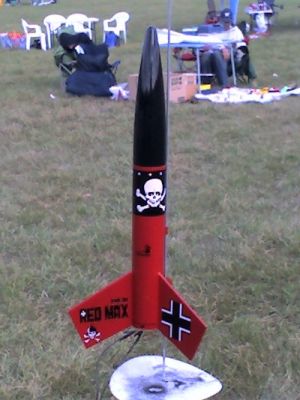 Brief:
Re-release of a classic Estes rocket! Includes a cool pre-assembled pirate skull 18" parachute!
My first memory of the Der Red Max was a little over twenty years ago. I was between the age of 6 and 8, and my grandfather had given me $20 for my birthday. My parents took me to a mall and I was in Kay-Bee Toy and Hobbies. I was trying to find something to spend my money on, then I saw the model rockets. I remember a few years prior to that my parents bought some model rocket stuff, flew some, but then my twin brother got very sick. Shortly after he recovered, my Dad changed jobs so we moved...and rockets were forgotten. I saw the Der Red Max and thought it looked cool. My dad, however suggested I get a different rocket because he felt that it was too small for the motors he still had. Instead, I chose an Estes Marauder. That was my first of many model rockets!
Construction:
The kit itself is pretty much a standard three fins and a nose cone design. You get a nice white wall body tube that is better quality than many other kits Estes offers. The large fins are laser cut but you will still need to use a knife to loosen them. You also get two nice looking waterslide decal sheets that have a paper sleeve to protect them. I did not like the centering rings. To me, they seemed to be flimsy. Also, the rubber shock cord is way too short. Another interesting note is the kit comes with a jig to help mark the fins locations on the body tube.
Construction of the Der Red Max is pretty simple. I found that the fit of the centering rings on the motor tube to be tight so some sanding was required. I made sure I gave the joints some extra fillets in case I decide to stick a D13 in the motor tube.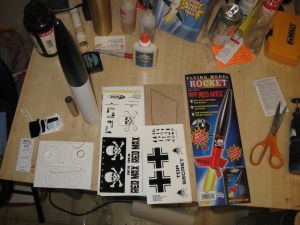 Once the fins were loosened from the balsa sheet, I sanded the leading and trailing edges round. I did not bother with the fin jig that came with the kit to attach the fins. Instead I used my classic Estes Fin Alignment guide, which did a great job keeping the fins straight. Once the fins were dry, I attached the launch lugs (which were short) and applied all the fillets. An additional step I had to do was wrap tape around the shoulder of the nose cone because the fit was very loose.
Finishing:
The Red Max's finish was very simple. First I coated the fins with Bondo Spot putty. Once that was dry and sanded, I applied several coats of Rustoleum Light Gray automotive primer, sanding between coats. After a couple Bondo touch ups and more primer and sanding, the Red Max is ready to paint. It is an easy paint job. The booster section was painted red and the nose cone sprayed black.
When the paint dried, it was time for the decals. Care had to be taken when handling these waterslide decals. The film was very thin and wanted to bunch up. If the film bunched up, it creates a crease, and is impossible to straighten out. Other than wanting to bunch, they went on without a hitch. I love the optional "Kills" decal and I made sure it made it on one of the fins of my model. Once the decals were dry, I finished my Red Max with Future Floor Polish. I am very impressed how the finish came out as the polish really makes her shine.
Construction Rating: 4 out of 5
Flight:
So far I only flew my Der Max once with a B4-4. Very nice liftoff and got a good clip of altitude.
Recovery:
The parachute did not deploy fully because it was cool enough for the plastic to stick, but there was no damage.
Flight Rating: 5 out of 5
Summary:
I think this is a great kit. Every collection should have one. Take your time, sand where things are too tight, wrap tape around things too loose, and be careful with those decals!
Overall Rating: 4 out of 5