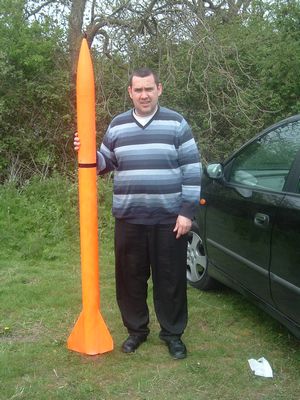 Brief:
The HyperLOC 835 has been designed by LOC Precision to be used as a dual deployment hybrid rocket, primarily for use with Hypertek hybrid motors although it will fly well on solid motors as well.
I chose this rocket to use to do my level 2. First because I like the design of the rocket, and secondly because I intend to go down the hybrid route in the future. Essentially I am killing two birds with one stone.
Construction:
The parts list:
1 54mm motor mount tube
1 18" Drogue parachute
1 50" Main parachute
1 4" payload section
1 EB-3.90 electronics bay assembly
3 fins
1 4" main airframe
1 shock cord mount centering ring
1 ½" launch lug
2 elastic shock cords
3 main centering rings
1 overflow tube
1 4" plastic nosecone
1 shock cord mount hardware set
1 4" main airframe extension
1 tube coupler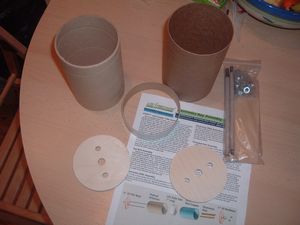 The instructions were like other LOC/Precision kits. They are printed on a single sheet of paper one side of the sheet of paper has a picture of the finished rocket, recommended motors, rocket dimension information, etc. The other side has the assembly instructions without any diagrams or pictures. The build is relatively straightforward and is similar to other 3FNC rockets in construction.
The recovery system is the usual elastic type, but I replaced this with 9/16" x 15' top flight tubular nylon and added a Nomex fire wall and shock cord protector.
Finishing:
I sanded all of the parts of the rocket. I then used automotive spray paints. I undercoated the whole rocket with several coats of white primer. When this had fully dried again, I sprayed the whole rocket with florescent orange paint. This made for a very bright rocket in the sun. The kit does not come with any decals but they can be downloaded off the internet and printed out on waterslide decal paper.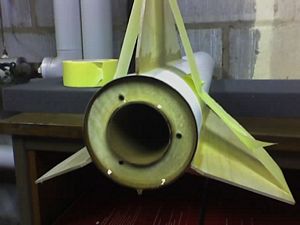 Construction Rating: 4 out of 5
Flight:
Due to the motor I would be using, my first opportunity to fly the Hyperloc would at bigEARS May 2008. I packed my rocket, tools, and paperwork into the car and off we went. Three hours later we were in Cambridgeshire.
Before I could fly I had to take and pass the UKRA level two certification exam. I promptly located Cath at the UKRA stand, I waited my turn, and luckily passed my L2 exam.
Under the supervision of the RSO, I prepped and loaded the HyperLOC with a PRO38 J285.
After some minor problems, we had lift off. The HyperLOC climbed to a peek altitude of 3275ft and deployed its parachute at apogee. This was some several hundred feet higher than SpaceCAD had predicted and made for an hour long walk to collect my rocket. Level 2 flight successful.
Flight 2. I'd repainted the HyperLOC835 in supersonic blue. Flown at the IRW 2008 in Largs, Scotland. Launched on a Pro38 I205 to an altitude of 1877ft, deployed its parachute at apogee, and landed approximately 300ft from the launch pad. No damage.
Recovery:
The supplied recovery can be described as adequate for a rocket that's 74" long and 4" in diameter. I would have expected the kit to come with tubular nylon recovery. As stated above, I replaced the stock components with 9/16" x 15' Top Flight tubular nylon and added a Nomex fire wall and shock cord protector.
All flights so far have been flawless.
Flight Rating: 3 out of 5
Summary:
I like this rocket a lot. It can be flown on a great range of motors from a H class motor all the way up to a K hybrid. If you have the money, you could fly this rocket 50 times never using the same motor twice. Finishing is straightforward with no spirals to fill.
Overall Rating: 4 out of 5