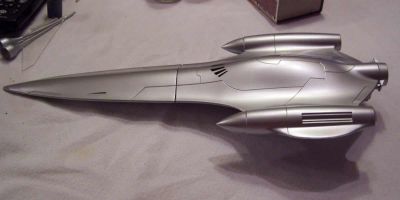 Brief:
This is an almost Ready to Fly Star Wars rocket that is powered by 18mm motors and returns under parachute recovery.
This rocket is almost ready to fly and was released to cash in on the second Star Wars trilogy merchandise bonanza. It does not look too bad out of the box but requires clear plastic fins for stability.
Construction:
The components in the box consist of:
An assembled and finished plastic rocket
A display stand
A Star Wars 18" parachute
2 Stinger tails
4 clear plastic fins
An instruction sheet
The rocket is already assembled for the most part. It comes out of the box looking ready, but it is not.
The "kit" includes 2 "stinger tails" which are supposed to be installed for display purposes. The instructions say not to fly the model with the tails installed but I cannot figure out why they might be a problem unless some lawyers were giving Estes grief. Each one is a piece of fairly stiff rubber that snaps into the "engine nacelles". I figured they would not affect stability to any appreciable extent so I fixed them in place with CA. If worse comes to worse, I will shed no tears if I need to bob them later.
Next up was the installation of the clear plastic fins. The instruction say to use tube type model cement. Every time I have used tube cement on an Estes model, I have always had to re-glue the joint on multiple occasions. I decided to use CA. I have had better luck with that on rockets.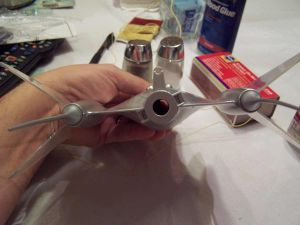 The "build" closes with the shock cord system. The rocket came with a piece of elastic glued into the BT. It fails every time on the first or second flight. I used some long nippers to reach in and cut out the elastic. I then scrounged a BT-20 coupler tube and tied a length of Kevlar® to it. I dabbed on some yellow glue to the interior of the coupler to hold the Kevlar® in place and let it dry. When it was dry, I poked it in the top of the BT and forced it down as far as I could get it with a long swab. I then used that same swab to dab a fillet of yellow glue around the perimeter of the coupler to hold it in place. I am still experimenting with replacements for the Estes recovery failure system and this is today's attempt.
Finishing:
There is no finishing required. The model comes with a silver finish and a very small black decal for the cockpit which is already applied.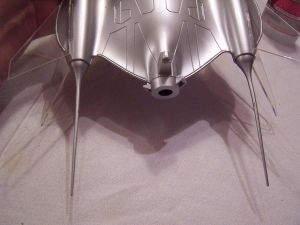 Construction Rating: 3 out of 5
Flight:
How to put this delicately...I can fly better by flapping my arms.
Difficulty began immediately. Stuffing the chute is no easy matter, but I eventually got it in. I loaded up with a C6-3 and...no ignition. I replaced the igniter and tried again and got...no ignition. I should have taken that as a sign, but I did not. I figured third time is the charm.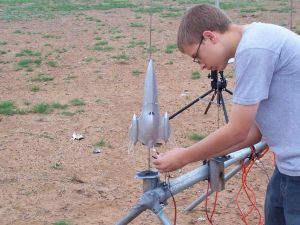 I replaced the igniter. This time it did light, and it went up about 20 feet.
It then proceeded to zig zag around the sky never gaining or loosing altitude until it ran out of thrust. A quick crash to the ground made the world a bit of a safer place and then insult was added to the flight. The chute popped out on the ground.
PROs: Cardiovascular exercise while running from rockets is good for the health.
CONs: I'm not much into exercise. It is wildly unstable.
Recovery:
Waiting until after its on the ground for the chute to deploy saves lots of walking.
I am going to add half a point to this one because I did not remove the stingers.
Flight Rating: 1 out of 5
Summary:
It stinks. I may try it again some time when nobody is around and after I cut off the stingers.
Then again, I may not.
Overall Rating: 2 out of 5