Brief:
This is a scale model of the world's fastest jet. Estes brought it back in 2003 along with some other military rocket kits. This one was the original vintage version that was given to me by my neighbor. He said he built it sometime in the 1970s, it was missing fins, and in need of a parachute.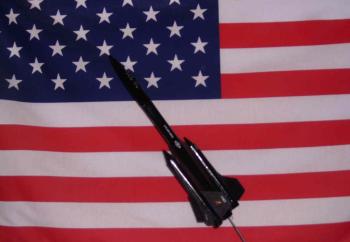 Construction:
The newer ones come in a bag with:
1 BT-50 body tube
2 shorter BT-50 body tubes
1 nose cone that looks like front of jet
Plastic jet nozzles and noses
1 18mm motor mount
Paper Blackbird skin
2 sheets of balsa for the wings
Shock Cord
18" parachute
Launch lugs
Since I didn't build this one, I cannot tell you haw to assemble it. But it did need major repairs when I got it. The balsa is pre-cut and also came with an angle chart for the tail feathers (rudders). The parachute is in my opinion too big for the body tube and looks like it could get stuck but still pops out in flight.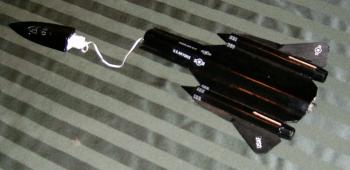 Finishing:
Spray the whole rocket flat black then applying the decals.
Construction Rating: 5 out of 5
Flight:
I flew it twice. I set it up on a B6-4 for its first flight. Flew very straight and ejected the chute at perfect apogee. It did drift a bit, so I recommend getting a 15" chute or something smaller because the fit is very tight.
Second flight went about the same as the previous flight but it didn't drift as much this time on the way down. I would still go with a smaller chute.
Recovery:
Recovery is by an 18" plastic chute. I hate trying to stuff 18" chutes into BT-50 body tubes as I get so scared of it not deploying. It uses about 4 sheets of wadding too. It still surprises me when the chute does deploy though. The chute does brings the Blackbird down perfectly.
Flight Rating: 4 out of 5
Summary:
This is a good kit for scale modelers. It provides a good thing to look at then fly it. I thank Estes for bringing it back to production.
Overall Rating: 4 out of 5