[Editor's Note: John's Saturn 1B is the paper wrap-around version that Roachworks produced, verses the all-tube version]
Brief:
This a semi-scale Saturn 1B based on a BT-60 airframe and 18mm motor mount. It uses standard parachute recovery.
Construction:
The kit comprised of a number of parts including:
Body tube
Upper LM tube
Printed body wraps and shrouds
Custom ring set
Engine tube
Capsule set with escape tower dowel
2 1/4" Launch lug
Instruction booklet
Kevlar® and elastic shock cord
If you never had the pleasure of building one of Gordon's kits, you are really in for something of a treat. He has this habit of coming up with an idea for a new and fresh approach to a kit every once and a while. Through The Rocketry Forum (TRF), he captivates all who read to the point of us wanting to send him money before his idea is even kitted! Having said that, it was no surprise to find my kit come in it's own special box with a great label on the outside and plenty of quality on the inside. The instructions are pretty straightforward and even if you have never tackled a kit like this before and as long as you take your time, you will find it quite rewarding. I think the kit hovers around a skill level 2 or 3. The order of assembly is logical and all pieces fit perfectly. Before you begin using those big household scissors, go to your local drug store and get a small pair of cuticle scissors. They cost about 3-5 bucks, but they'll make cutting out the smaller paper pieces a snap.
A special note here: Please use his recommendations regarding adhesives. In particular, the Elmer's rubber cement that he talks about is just about the only glue you want to use on the special body wraps to insure perfect adhesion. The wraps are made from high quality gloss heavy bond paper. The detail is awesome. Now there are no actual fuel tanks, but once the wrap is installed, you can't tell from 10 feet away. The illusion is pretty sweet!
Be sure to dry fit everything so you know how much curl to put into the wrap before you start applying glue. If you have any seams, you can touch them up with a little white out or a Sharpie marker.
The fins are real simple. You just fold the pre-printed fins over the enclosed fin stock and cut them out. They are all in order according to installation so it makes gluing them on a snap.
The only change I made was using a Kevlar® thread type recovery section but if you use the tri-fold system, there is nothing wrong with it. Kevlar® is just my choice.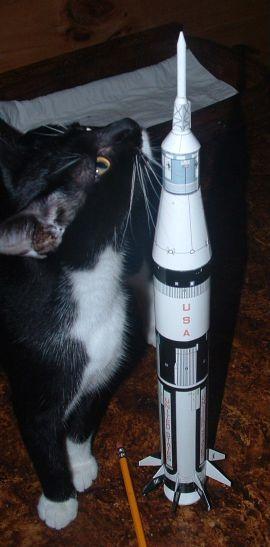 Finishing:
The only finishing you really have to do is paint the escape tower. I used White Out. Dab on some color to the fins too with more White Out and a black Sharpie pen. After everything has dried, you can (as recommended) clear coat the entire model with either Krylon Fixative #1306 or Testors Dull Coat. Light coats of either one please. I made the mistake of using a heavy coat of Krylon Crystal Clear. Don't use Krylon Crystal Clear, at least not in rocketry, because some of the colors mottled a bit. Nothing too serious though and you can't even tell if you are a few feet away.
Construction Rating: 5 out of 5
Flight:
We talked a bit on TRF about types of parachutes and sizes. With my first flight, I chose an A8-3 and a 12" Thrustline Rip-Stop Nylon chute. (I would have photos but I still have not mastered launching and taking the picture when I'm flying alone.) The boost was straight and not that fast which was perfect for those of us that like that scale look. The second flight was on a B6-4 and was plenty high enough with a nice straight boost. Gordon does not recommend any thing larger than a B6-4 and I agree. The boost would be too high and way too fast to fully enjoy.
Recovery:
The chute popped right at apogee on the both flights and I saw something separate on the first flight but I wasn't sure what it was until later noticed the little escape tower had popped off. It was just my luck it landed close to the pad along with the rocket, so I put it in my field box and have since glued it back on. After some contemplation, I might not ever have glued it on in first place! The rocket landed without damage and after watching the descent, I think a 10" chute might be better.
Flight Rating: 5 out of 5
Summary:
PROs: One of my mental blocks when it comes to rocketry is scale. I think it's a great way for someone who is a little apprehensive about spending lots of money and time buying and building only to prang it. Great scale looks, great price, and you can build it easily in one weekend.
CONs: None.
Overall Rating: 5 out of 5
Other:
Roachwerks is not a "Boiler Plate" type vendor. All of the kits that I have seen are produced in small batches with lots of quality parts and attention to detail. If you are interested purchasing one, visit The Rocketry Forum and click on the either the "Yard Sale" or "Vendor" sections. Sandman is always spinning out something cool from his shop!