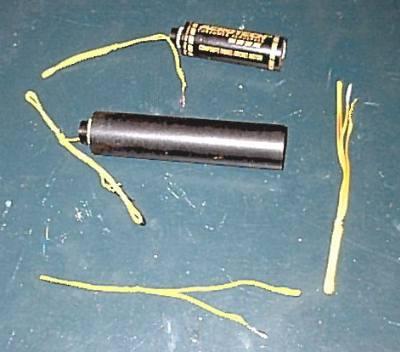 Brief:
I won a Magnelite kit from the EMRR 'Boink' Rocket contest. I received the 2-part pyrogen kit, and 12 each of the 12" (E-G), 24" (H-J) and 48" (K-M) igniter wires. Here's what I think of it.
Construction:
The pyrogen in my kit came in plastic bottle, sealed with wax, and packed in some sort of sand. The oxidizer powder was just in a plastic bottle. The kit included a set of instructions and a material safety data sheet. Mixing tools included a paper cone to be used as a funnel, a small screwdriver for stirring the pyrogen, and a plastic pipette for measuring acetone to keep the mixture at the right consistency. The latter will prove useful for rejuvenation my IgniterMan pyrogen also.
Mixing the pyrogen up was easy and making the igniters was a snap. I made 6 of the 12" igniters and 3 of the 24" as I generally would rather only make what I need at any time. These both use the same gauge wire but differ in length. Before dipping, they all ranged between 0.8 and 0.9 ohms. Although the wire wasn't pre-stripped, I found it easy to strip it with only my fingernail. I left them for a couple of hours and then test fit them in some motors. All of the igniters would fit in a G80, and most would fit in both an E15 and E30. A couple with thicker blobs of pyrogen wouldn't fit in the latter. These igniters are easier to make than the IgniterMan, since you don't have to fiddle with gapping the wire, and the process is single vs. triple dip (Magnelite recommends not to seal their igniters). The down side it you have to use their wires.
Construction Rating: 4 out of 5
Flight:
Well, they're 4-for-4. F10, G80 (2), and J420R - all successful.
Flight Rating: 5 out of 5
Summary:
I pretty much agree with the previous reviews. These are easy to make and work GREAT, with the downside being that you have to use their wires (or wrap your own, I guess). Note the newer 12" wires fit nicely in E composite motors.
Overall Rating: 5 out of 5
Update 7/2002:
I recently made a batch of igniters using Magnelite pyrogen over wires that were prepared with Igniterman conductive primer. I made a dozen igniters using both 30gauge wire wrap wire and various miscellaneous 22-24 gauge wires that I scrounged from spent igniters. So far, I used two of the 30 gauge igniters (E15 and E30) and one of the larger ones (G80FWL). All were successful.
While preparing these igniters, I also noticed an additional benefit of the Magnelite system. That is, you only need acetone to thin or revive dried up Magnelite pyrogen. The Igniterman pyrogen, once dry, requires both acetone and methyl ethyl ketone (MEK).
In another experiment, I made my own bridge-wire igniter. I took a used Magnelite ML-12, trimmed the scorched end, separated the leads, and cut one lead ½ inch shorter than the other. One-quarter inch of insulation was then stripped from each lead. Using some nichrome wire (I didn't buy it so I'm not sure of its gauge), I hand-wrapped 5 turns on the shorter lead's conductor, 5 turns on the longer lead's insulation (about the same as the original igniter), and another five turns longer lead's conductor. All the wraps were non-overlapping. The igniter was then prepared like the rest. Once cured, the igniter read 2.3 ohms. I used it on a G80FWL motor and it lit immediately. Not bad for a "quick and dirty" effort, and no soldering or special tools were required.