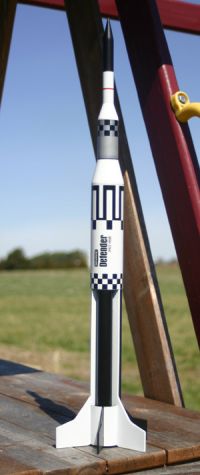 Brief:
This latest Semroc offering is a Retro-Repro of an old Century classic. I never had a proper introduction to Centuri kits. They were rarely sold in the area I lived as kid. Occasionally, a couple Centuri kits would pop up at the local Hungate's, but for the most part, Estes was king. I'm glad to see some of the Centuri classics brought back to life giving us BARs a chance to catch up on stuff.
The Defender boasts 3 x 18mm friction fitted motor mount system and parachute recovery. The rocket is clearly styled after the early NASA Saturn rockets. I like that!
I ordered my kit the day Semroc announced the kit's release. As a result, I ended up getting a kit with an early production number, #26. No matter, I bought this kit to build and fly, which is what I promptly did upon it's arrival!
Construction:
I'm always amazed at how many parts Semroc can fit into such small packages. This bag was no exception. Everything was neatly an securely packed. The parts included are as follows:
1 Balsa Nose Cone (BC-516)
1 Body Tube (ST-530)
1 Balsa Transition (BR-510)
1 Body Tube (ST-1020)
1 Balsa Transition (BR-10165)
1 Body Tube (ST-1652)
3 Body Tubes (ST-790)
1 Body Tube (ST-1620)
1 Laser Cut Fins
1 Laser Cut Balsa fin strips
3 thrust rings
2 standard lugs
1 screw eye
1 length Kevlar® thread/recovery leader
1 length elastic cord
1 clay weight
2 12" plastic parachute kits
1 sheet waterslide decals
PROS:
The instructions were well illustrated and easy to follow.
All the parts were typical of Semroc's high quality. The laser cut fins are a treat, and the balsa cones and transitions are the BEST in the business.
CONS:
I was so anxious to get started building the kit, I never considered the paint scheme before I started building. The instructions have the builder assemble the three main engine tubes right off the bat. This involves gluing the three longest tubes in a triangular fashion and then inserting them into the short lower body (fin) tube. Then a baffle/centering ring is glued to the other end and the Kevlar® thread is also attached. Another body tube slides over the centering ring and completes the lower body tube assembly. If following the instructions this way, it will complicate the painting later. Just be aware.
The fin stock from Semroc is often a little softer than I would prefer. This kit was no exception. This can be remedied in many ways with very little effort. Papering the fins, using a commercial wood hardener, or even a soak with thin CA can easily cure this. I'm not overly concerned with this issue, since it is good practice to do those steps regardless. To be fair, I assembled the kit without doing anything extra to the fin stock. It flew and recovered without any damage. So what do I know anyway?
Finishing:
I would suggest that anyone building this kit to be smarter than I and paint the three engine tubes after they are glued together. This should be done after step #4 in the instructions, before the lower and upper tubes are glued in place. I would also pre-paint the balsa strips that slide between the "LOX" tanks and the fins as well. Perhaps the upper and lower tubes should be pre-painted as well? This will make finishing the model much easier and save time masking later.
The supplied decals are monotone black featuring two checkerboard sections, a large roll pattern, and the "Defender" logo. They really dress up the appearance of the model and look great against the white background.
This decals have nice, crisp lines and are very easy to work with. I usually fear the decal process, but that feeling is diminished when using Semroc decals.
Construction Rating: 4 out of 5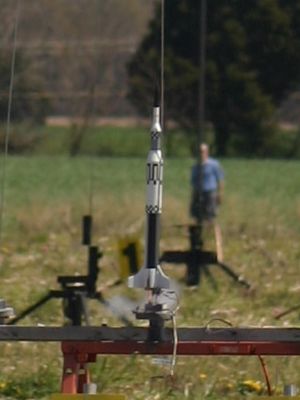 Flight:
This rocket is to be flown as a triple cluster. You can use anything from 3 As, 3 Bs to 3 Cs. I chose to use B6-6s for its first flight. I borrowed a clip whip from a fellow club member to hook up the igniters. All three motors lit as planned, and the rocket turned in a picture perfect flight. It flew straight as an arrow to about the projected height for a B motor in this rocket...900ft or more. Very enjoyable flight. Even with the 6 second delay, the rocket was still barely coasting upwards when the ejection went off. I'm not sure if I'd use the recommended B6-4s. I think a trio of C6-7s would be glorious.
Flight prep was pretty easy. I used about 5-6 squares of normal recovery wadding. The motors are to friction fit with masking tape. Once around each motor with the tape was all that was needed to get a good fit on mine.
Recovery:
The elastic shock cord is anchored to the engine tubes by a Kevlar® leader.
I forgot to attach the elastic before heading out to the range. I suspect the supplied length of elastic was more than adequate for this model, but I ended up using a longer piece from my range box that I installed while on the field.
The kit comes with two 12" plastic chutes. I replaced the two chutes with a single 12" nylon hemispherical parachute. That was just about perfect for this ricket, which resulted in a slow decent that still ended up drifting about 100 yards or so from the pad. No damage sustained.
Flight Rating: 5 out of 5
Summary:
I have been very pleased with every Semroc purchase I have ever made. This is a quality kit that goes together easy and is bound to deliver some spectacular flights. Just do a little thought and preparation ahead of time for painting and finishing the rocket and this will be a very enjoyable build. Very sharp looking.
Overall Rating: 4 out of 5