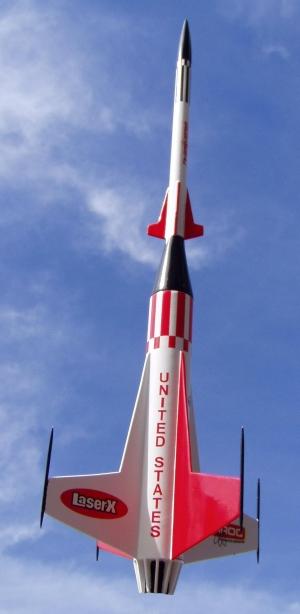 Brief:
As described by Semroc owner Carl McLawhorn; "a retro reproduction of an out-of-production model rocket kit." Otherwise, A.K.A. Centuri's Laser-X. In simpler terms; this is a single stage 18mm futuristic clone of the often coveted Centuri Laser-X kit that recovers on a single 12" plastic chute. Whew!
Construction:
Carl at Semroc has made a truly impressive product in cloning this kit. Everything is top quality and individually packaged. Parts are as follows:
1 Upper Body Tube ST5120
1 Lower Body Tube ST1380
1 Motor Tube ST730E
1 Balsa Nose Cone BC524
1 Laser Cut Fin set FV33 (2 pieces)
2 Tube Couplers HTC13
2 Centering Rings CR713
2 Centering Rings CR513
1 Thrust Ring TR7
1 Launch Lug LL122
1 Engine Hook EH28
1 Elastic Cord EC124
1 Kevlar® Thread SCK24
1 Plastic Parachute RC12
1 Tape Discs TD6
1 Shroud Lines SLT6
4 Wood Dowels WD230
1 Decal Sheet DKV33
1 Shroud IKV33S
I was in the process of cloning this kit from scratch when Semroc released their version. Thinking, "why reinvent the wheel?" I decided to buy three of these kits (1 to build, 1 for a friend, 1 to store away). At a price of $11.50, It seem to deserve the "Best Buy" award!
Everything in this kit portrays Semroc's attention to detail and quality including the best looking balsa nose cone I have seen in a while, laser cut fins, and individually packaged parts. The instructions are a clear, quality reproduced version of the original instructions. Easy to follow and work in a logical assembling order, something I rarely do.
No special tools are needed, and supplies required are the usual white glue and paint of your choice. Everything fits perfect!
The only gotcha, and it's not really that bad, is the shroud forming. This is probably the most difficult task in the kit. Forming a perfect conical shroud from a rather stiff card takes patience, and some luck. If absent any of those characteristics, then check one of the many rocket forums out there for additional advice.
My method of choice came from past experience with another kit that utilizes a paper shroud. I preform the shroud over a steaming pot of boiling water. This softens the card and allows a more natural curling process. Care should be taken to minimize the exposure to the steam so that the card doesn't get damp. Finally, all errors can be corrected with Elmer's Fill 'n' Finish and a bit of sanding.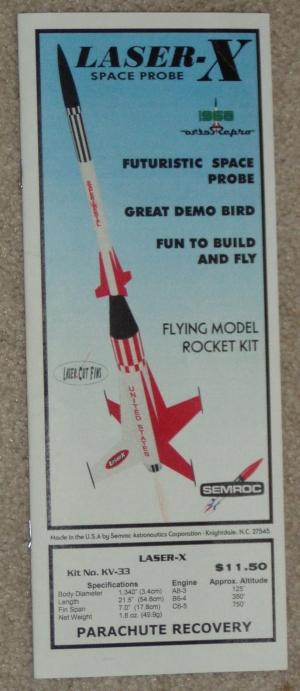 Finishing:
Finishing can be as simple or as complex as you choose. The only thing I do different then the instructions, is to treat the card shroud with thin CA. This stiffens the shroud and makes it more resilient to dents and creases. Other tricks and opinions are also available out there.
The only area that required some forethought before painting is decal placement. I would classify this as a gotcha rather than a CON. The decals are printed on a clear transparent water slide decal paper. Therefore, if you paint an area black and then place a black outlined decal with clear center on that area it will be lost in the background. My painting schemes seemed to be limited by this factor and was the controlling factor in the paint scheme I chose. At one point I considered printing my own decals on some white background decal slide paper. More classic paint scheme options could then be used.
Regardless, I still will give it a 5 rating.
Construction Rating: 5 out of 5
Flight:
Recommended motors are the A8-3, B6-4, and C6-5. I have yet to fly mine, but I would hesitate to fly it of a C6-5 for fear of losing it to the Rocket Gods.
Preparation is the standard wadding. Motor retention is a standard motor clip.
I flew this rocket on 24 January 2004 in strong gust winds, sub-zero temperatures on an Estes B6-4. I chose this motor because of my experience with my Mars Snooper which I decided the Laser-X's flight profile would closely represent. I felt that an A8-3 flight would be under powered in these strong gusty winds.
The flight was true and perfect to an altitude of about 200 feet. The chute opened at apogee, and one of the 'chutes shroud lines promptly snagged one of the four wing tip dowels. Even in this condition the 'chute remained fully inflated, and the rocket's lower body returned to the surface in a horizontal recovery state. At first I thought this was good because it would spread out the impact force.
Imagine my surprise to discover the rocket suffered a broken main fin at mid-span. Deciding to investigate the failed recovery further I decided to weigh the rocket and check it's recovery weight against it's chute size using a descent calculator available on-line. The end result was at the rockets recovery weight of 2.9 ounces the descent rate was 16.12 feet/second, a very acceptable rate. Therefore the damaged had to be written off to the rock hard frozen ground, and gust winds that resulted in a fast ground speed at touchdown. The fin is easily repairable, and it will fly again soon.
Recovery:
Semroc has done a great job in this area by upgrading the shock cord to a much improved Kevlar® & elastic combo that attaches to the motor mount and should be more durable.
My only area of concern in the area of flight damage is the toothpick-like dowels. They snag on everything and are assured a future as break off items.
Flight Rating: 5 out of 5
Summary:
I am left with such strong positive opinion about Semroc's effort in producing this kit that I feel a disclaimer might be in order. "I have no association with Semroc or it's principals, in fact I have never met Carl McLawhorn." There, now that's out of the way, I can't stop saying how great a job Semroc has done on this kit.
Finally for you collectors out there, each kit is individually assigned a production number. What a great marketing idea.
Overall Rating: 5 out of 5