Picture courtesy of SemRoc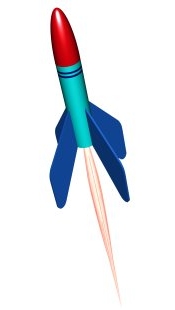 Brief:
The Semroc Lil' Hercules is a Semroc "retro-repro" of an earlier model. It is comparable to an Estes Mosquito or Quark. Just a little bit bigger.
Construction:
Kit contained 1 body tube, 1 balsa nose cone, 4 laser cut fins, 4 metal washers and 1 paper launch lug. There were no motor mounts or shock cords as this one recovers via tumble.
The instructions were very well laid out in a logical order with plenty of pictures. Semroc instructions are some of the most thorough on the market. Basically, just mark the body tube with the fin template provided, glue on the fins, launch lug and nose cone and you're ready to go. Oops.. almost forgot. You have to glue 1 metal washer to the base of each fin. These are supposed to aid in the tumble recovery. Nose cone was made of balsa as with all Semroc models and the fins were very high quality and just fell out of the sheet as they are laser cut. We (me and a 5 year old) used Elmers wood glue to put everything together.
Finishing:
We put a couple of fillets on the fins, gave her a quick prime and then painted her fluorescent orange. The really bright kind that the road crew guys use. I'll let you guess who picked the paint. Good idea, though, as this thing really soars and the fluorescent orange is easy to spot.
Construction Rating: 5 out of 5
Flight:
No recovery wadding was necessary and we flew it twice on A8-3's. Instructions call for an A8-5 to reach 600'. Each one of our flights were probably a little less than 600'. Both flights were the same. Flight was very good on the way up with a little bit of a spin.
Recovery:
The tumble recovery was not very tumble. It was the lawn dart method - straight down. Possibly the washers need to be moved around a little bit. At a price of 3.50 each, I think I can afford to experiment!
Flight Rating: 3 out of 5
Summary:
Overall, a nice little rocket. We put it together and had it in the air in about an hour. The tumble needs a little work - but I think it can be fixed by moving those washers.
Overall Rating: 3 out of 5