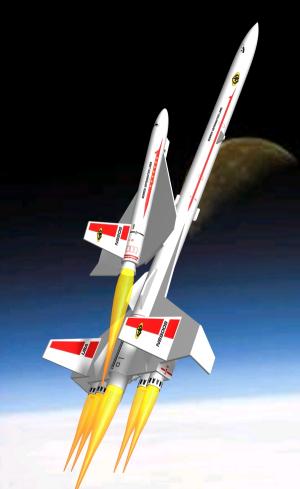 Brief:
A Retro-Reproduction of Wayne Kellner's 1968 design for Estes. It represents a scramjet carrier aircraft with a piggybacked orbiter.
Construction:
This was my first Semroc kit, and it will definitely not be my last! It came in a plastic bag with four-color header card. The kit included precut body tubes in three diameters and three lengths, three sheets of laser-cut balsa fins, two nice balsa nose cones, Kevlar and elastic for a recovery harness, a steel motor-retainer clip, a 12" plastic parachute kit, two centering rings of the heavy-duty sort found in most kits, two different diameters of dowel, a beautiful three-color waterslide decal sheet, a sheet of cardstock patterns and pieces, a cardstock circle to block the glider tail, and an instruction booklet.
I was pleasantly surprised to find the staple-bound instruction booklet in the kit. My understanding was that Semroc was not sending these, and you had to download them from their website. I downloaded a copy in advance.
The instructions were excellent, well-illustrated, and clear. Semroc's body tubes are absolutely a delight with nearly no spirals to fill. I made a few very minor alterations as I built. I assembled the motor mount as directed except for adding a thrust ring in the forward end, exchanging Semroc's motor retainer clip for an Estes one I had on hand, and assembling the aft centering ring onto the tube so it would be flush with the main body when assembled.
Templates for the positioning of rudders and wing fences and angling the glider's elevons were provided as were two wrap-on marking guides. I tacked the fins into place with gel CA, finished the attachment with thin CA, and filleted with white glue.
I lost one elevon while assembling but made a new pair from tongue-depressor stock to replace them.
Assembly PROs: Good materials, good design, nice instructions, and good templates.
Assembly CONs: I looked, I really did! I couldn't find any.
Finishing:
Those gorgeous white tubes had no spirals to fill. Balsa grain disappeared with light sanding and three coats of water-thinned white glue. I painted the Orbital Transport in a silver-over-black scheme that looks nice and still allows the decals to be seen (well, most of them).
Construction Rating: 4 out of 5
Flight:
Semroc's recommended motors are B6-4 and C6-5. I flew my Orbital Transport at my friend Darrell's field. My glider required four carpet tacks as nose weight for a smooth glide. Wind on launch day was out of the east at 2mph. I stuffed five squares of paper wadding in, rolled and stuffed the chute, then loaded in a B6-4. Put her on the rod using a 2" section of old fiberglass tent pole as a stand-off, then hung the glider on its launch lug mount.
OT flew straight and true; glider separated at apogee. Altitude about five hundred feet, it looked like. Parachute opened just after apogee. Glider stayed up about twelve seconds and landed within ten feet of the launcher as did the booster vehicle.
Second flight on another B6-4 was a repeat of the first, except this time the glider was up there for a stopwatched fourteen seconds.
Loaded a C6-5 for flight three. Apogee this time was more like seven hundred feet and glider duration was right at twenty-five seconds. Recoveries in all three flights was fairly close to the launcher.
Recovery:
Kevlar-elastic shock cord system worked very well. There was no burning or damage. The cord was also long enough and no "Estes denting" on body tube. Twelve-inch parachute was a little small, I think, but an 18" chute would have been too much.
Flight Rating: 4 out of 5
Summary:
Semroc has a winner here, a true "blast from the past". The original Estes Orbital Transport hit the market about the time I started building model rockets; this is the first chance I have had to own one. It's a beautiful rocket on the display shelf, on the pad, and in the air.
(My other reason for building this rocket was because I'm planning a 200% upscaled one to fly on an AeroTech 29mm G RMS. Easier to take measurements directly from a model than from a drawing...)
Overall Rating: 4 out of 5