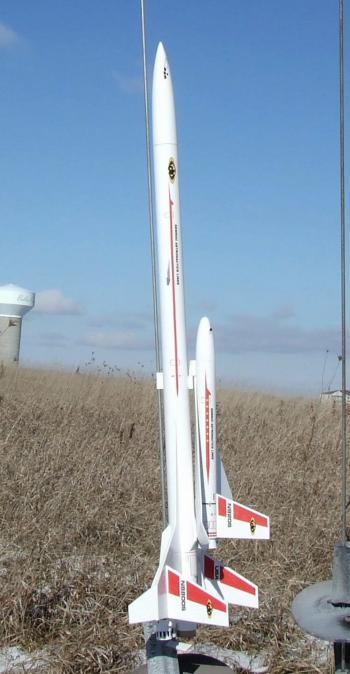 Brief:
This is a modern reproduction of an Estes classic kit from 1968. It features a futuristic piggyback shuttle, inspired by a NASA scramjet design. While I can't claim to have been into rocketry back in the 60's when this came out, I had just gotten into rocketry earlier this decade when Estes re-released the kit for a limited run, so this kit technically is the first "retro repro" of something I'd previously picked up and built as an original.
Construction:
Parts are Semroc's usual excellent quality, and include:
(2) Balsa nose cones
BT-20 tube
BT-50 tube
(4) BT-5 tubes
18mm motor tube kit (hook, tube, centering rings, etc.)
Laser-cut balsa fin set
Waterslide decals
Kevlar/Elastic shock cord
12" plastic chute
One thing I remember from the original, and not at all fondly, is the hand-cutting of all those stinkin' pieces. In fact, it was just a couple weeks after I'd built and flown mine that BMS introduced sets of laser-cut fins for about $7, and I picked up a couple sets for future cloning. Fortunately, in the Semroc kit, the fins are already taken care of.
This is not that difficult an assembly, and as such I'd probably give it a 3 on the 5 scale for difficulty scale simply because there are so many different pieces and placement/orientation can be critical. The instructions are very good--well written with ample illustrations.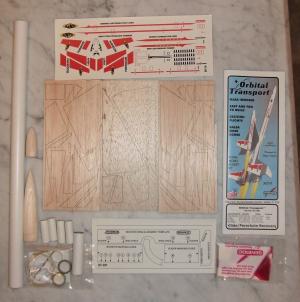 Construction begins with the booster assembly, which is the main vehicle. Start with the fins, which are two-piece glued together. Next comes building up the (4) scramjet housings. This was a breeze, thanks to some actual etched lines for alignment. In my case, I had an early edition of the kit, and there was a slight dimensional error on the upper plate, which left a small gap (see photo). The fin assemblies are completed by tacking on wing tips.
With the wing assemblies drying, there's now time for the motor mount. This is a standard motor tube, metal hook, and a pair of centering rings. The Kevlar shock cord is anchored around the forward centering ring.
Building up the booster is fun, as it's a far cry from basic 3FNC design. There are a lot of lines to mark (using wrap-around marking guide). The fin assemblies go on first, and there's even a cardstock alignment guide (though mine was off a small bit). Next come fairings attached to the main fins. I'm not sure I get why this isn't done offline rather than once the main fins are already on, and I'd suggest bonding them all at once.
I followed up by attaching a pair of forward strakes, followed by (4) trim pieces at the aft end, 2 of which serve as support braces for the shuttle later.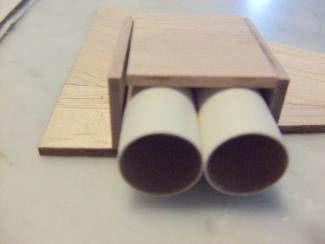 Flipping it over, there are more trim details on the underside, and positioning is made much easier by using a cardstock template.
The glider construction features as simple a technique as I've ever seen for building a dihedral on the wing--just drape each half over the BT-20 body tube and glue in place. Seal off the aft end with a cardboard disk, then trim it with a rolled shroud (nacelle). Rear elevons are attached and alignment again is assured by using a cardstock template. Last but not least, the rudder goes on, along with the launch lug/dowel that acts as a pin holding the shuttle to the carrier rocket.
Finishing:
Finishing is quite easy on this, and the finished rocket is very good looking. Since this is a glider, it's important to go easy on the weight, so I hit mine with a very light primer and single coat of gloss white Krylon for the shuttle. The carrier rocket got two coats of gloss white. I avoided using any filler at all.
The decals really make this look sharp. I'd rate them right up there near the classic Interceptor in terms of impact on appearance. In this case, Semroc stayed pretty close to the original Estes decals, though inserted their own name in a few spots.
Construction Rating: 4 out of 5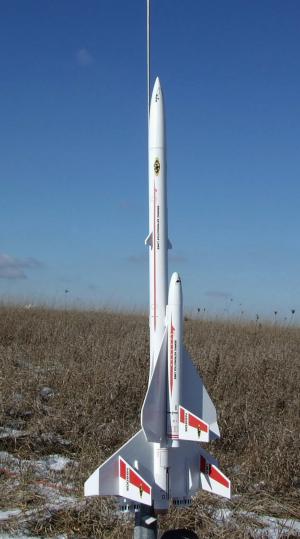 Flight:
For the first flight, I ventured out on a cold winter day with winds puffing a steady 5-6, maybe peaking at 10. I had ham-fistedly broken one fin prepping, so had to CA it back on and wait for it to cure.
I went with a C6-5, the highest recommended motor, in part wanting to make sure I had plenty of thrust to overcome any wind. It left the rod fine, but on the way up did a gentle swooping barrel roll, then leveled out into a nearly horizontal flight path, peaking at about 300 feet. The glider held on the whole way, impressive given the pilot's aerobatics.
Recovery:
The 12" plastic chute strikes me as a bit small for this, and I came down a bit hard but landed in snow, so no damage. As for the glider, it fared reasonably well against the winds, trying its best to circle around to the left, the getting knocked around a bit, then levelling back out for another attempt at a turn. I'd say I lasted about 40 seconds, which was actually pretty good given the poor boost altitude.
Flight Rating: 3 out of 5
Summary:
I'm a big fan of the classic Orbital Transport, and really like this retro-repro, bringing it back at an affordable price, especially with the improvement of laser-cut fins. Having just built the SST Shuttle competitor to this, though, I'd have to say I tend to like the cool ramjets of that one just a bit better. Still, you can't go wrong with either one in your fleet.
Overall Rating: 4 out of 5