Brief:
Based on the original Estes Goony Bird, the Zoom Broom. Late last year the original concept sketches for the Goonybirds appeared. Estes used the Goony profiles but changed t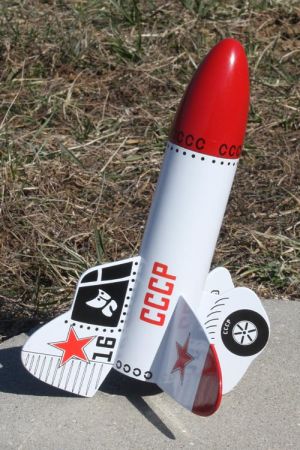 he graphics before they were released. Due to the interest generated by the original sketches, Semroc chose to release a new line of Goonies called the Groonies. Carl, the owner and founder of Semroc, refered to these as "Grown-up Goonies", hence "Groonies". Slightly larger and with an edgier theme, here it is as it was intended to be. See Chan's review for more details.
Construction:
Semroc parts are about as good as it gets. As noted in the previous review, the balsa is a little softer compared to some other LPR kits I've encountered. The laser cut fins are welcomed, and all parts fit with precision. One important thing to note, this is not BT-60 based like the original Goonies. It's slightly upscaled and has a different nose cone profile. Here is the official parts list:
1 Balsa Nose Cone- BC-1828D
1 Body Tube- ST-1860
1 Body Tube(motor tube)- ST-730E
1 Centering ring set- CR-KV-11
1 Laser cut fin set- FV-11
1 Thrust ring- TR-7
1 Elastic shock cord
1 Kevlar thread (shock leader)
1 Screw eye
1 1/8" launch lug
1 engine hook
1 plywood block(nose weight bulkhead)
1 clay weight
1 12" plastic parachute
1 waterslide decal sheet
Instructions are well written and well illustrated. Assembly was a breeze. I chose to laminate the fins with sticker paper and sealed the edges with thin CA. This is a very quick, clean, easy method for strengthening fins and filling balsa grain. This is full sheet label paper that you can find at most or the larger office supply stores. The generic store brand will do. With the size and shape of the irregular fins, I wanted the added strength. I sometimes wonder if it is an overkill to laminate, but Chan's review has convinced me that I made the right decision to do so on this model.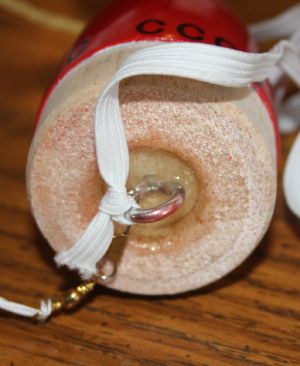 The motor mount slides up into the main body tube a good ways. This causes the end of the body to be exposed the hot motor exhaust. I assume it is configured this way for stability reasons. In order to protect the body tube from the heat, the instructions suggest using CA to reinforce and protect that area. I chose to use a thin smear of epoxy instead. I'm sure CA works, but I thought epoxy might hold up longer.
A decent amount of nose weight (included) is needed for stability. This is provided in the form of clay which gets inserted into the pre-bored nose cone. A plywood sealing cap is provided to hold the clay in place. While I had the epoxy mixed up, I glued the cap into place which also adds some extra reinforcement to the screw eye.
The tube marking guide in the instructions did its job just fine. I would suggest gluing the fins in the order specified in the instructions. Once the main wings are glued into place, you can use them as a guide to match the wheel fin angles.
Finishing:
Since I chose to laminate the fins, there wasn't any balsa grain that needed to be filled. I rounded the fins slightly.
The balsa nose cone was coated with a liberal dose of Minwax Wood Hardener then lightly sanded with 400 grit sandpaper a few days later. This does exactly what the name would imply. I love the stuff. This was followed with a nice coat of Elmer's Fill 'n' Finish to fill any wood grain then sanded smooth with 400 grit sandpaper.
I used Krylon gray primer, followed by 3-4 coats of Krylon Gloss White. Cone and wing tips were painted with Krylon Banner Red.
I applied the decals. The decals must be trimmed very close to the graphics in order to fit, but they do fit. The decals are very easy to apply and give ample time for placement. Note: The wheel well and tire decals need to need to be dealt with and applied as two pieces in order to fit properly.
Construction Rating: 4 out of 5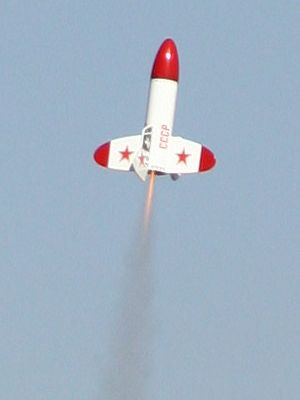 Flight:
The motor tube is a little longer than the standard length. This is actually a good thing in my opinion. I used that extra length to stuff a piece of recovery wadding into it. I think it helped buffer some of the initial ejection blast. I placed about three more sheets in the main body tube and still had plenty of room for the chute. This is a short rocket and space is limited for recovery parts, but it's not overly cramped.
For the first flight, I chose a C6-5. Our club field is rather large so I felt confident with this motor. Great looking boost and went much straighter than I anticipated. It's Japanese brother, The Saki, actually wind cocked a little more than this one so I was pleasantly surprised this one didn't do the same. More flights are needed for a better assessment. Both still turned in some great flights. Ejection just past apogee.
Recovery:
The 12" chute seemed adequate to me. With the slight breeze I'd say it was sized just about right. If the fins weren't laminated, I might be a little nervous. Minimal drift and recovered within 75 yards of the pad. No damage.
Flight Rating: 5 out of 5
Summary:
PROs: It's a Semroc! 'Nuff said.
CONs: Balsa might need reinforcement.
Overall Rating: 4 out of 5