Brief:
This is a small Sci-Fi looking model with forward swept fins, a ring fin and a bulging nose cone.
Construction:
The kit contains:
Balsa Nose Cone
Body tube (also serves as 18mm motor mount)
Ring fin (body tube material)
Sheet of laser cut 3/32 in. balsa fins - 6 all together, 3 inside and 3 outside ring fin
Empty motor casing (spacer)
Thrust ring
Engine hook
Retaining ring
Long launch lug
(3) Short launch lugs (for "lasers")
(3) Wood dowels (for "lasers")
Elastic cord 18 in.
Screw eye
Kevlar® thread 20 in.
Streamer (crepe paper) 1.75x24 in.
Tape disc
Glue applicator (cotton swab)
Tau Zero fin attachment template
Decal
I found the assembly of this model to be well thought out and well described in the instructions. The illustrations are accurate and helpful. I did use the template for the alignment of the inner fins. It worked well. I like the fact that the inner fins had a cutout to fit over the engine hook retaining ring. For the outer fins I used a fin alignment jig of my own. When finished, all three pairs of inner and outer fins aligned well.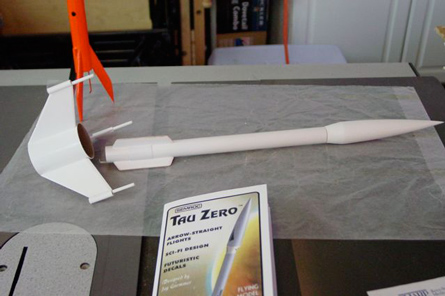 After attaching the three inner fins, the ring fin is fit over them and glued onto their outer edges. My inner fins were just not quite long enough for this to work well. I had not sanded them too much. In fact I really just deburred them and did not even sand off all of the laser burns. For this reason I used epoxy rather than carpenter's glue to attach the ring and held it in place manually while the epoxy set. Since carpenter's glue shrinks as it cures I thought it would shrink out of the gap and leave a weak joint.
It was a small joy that the kit came with its own Q-tip for applying the glue for the thrust ring. It meant I didn't have to go look for something to spread the glue. They get a brownie point for that.
Finishing:
The instructions point out what is probably the most important thing about finishing this rocket. You really need to paint under the ring before you glue it on. I did this and colored the inside of the ring itself as well. The paint scheme calls for flat black. Rather than paint this I colored it with a black magic marker and it came out great. It smelled for days, though. I chose the "Alternate Paint Scheme" from the instructions. I like the fact that they gave us two suggested paint schemes.
Construction Rating: 4 out of 5
Flight:
I flew it on all three recommended motors. The flights were all stable and straight. The engine hook takes one headache out of prepping and it is nice to see that they gave us one even though this is a sort of minimum diameter kit.
On one flight it ejected to motor casing in spite of the hook being engaged. I have not figured this out yet.
Recovery:
The supplied streamer was totally inadequate for recovery of this rocket. It is a small rocket, but the large solid balsa nose cone, the huge screw eye and the large ring fin all add significant mass. My rocket lost one of its "laser guns" on the first landing and a whole fin on the third. I did not measure the descent rate, but it was faster than I like to see for safety.
It also suffered rebound damage from the elastic snapping the nose cone back at the body tube at ejection. This may be due to a batch of motors with overly energetic ejection charges that I have been seeing lately.
Flight Rating: 2 out of 5
Summary:
This is a very good looking sporty Sci-Fi rocket. It was disappointing to see a nice rocket like this with small parts sticking off of it come screaming down to earth on an inadequate streamer. I really like this kit. Now that I am done evaluating it, mine will be packing a chute from now on.
Overall Rating: 4 out of 5