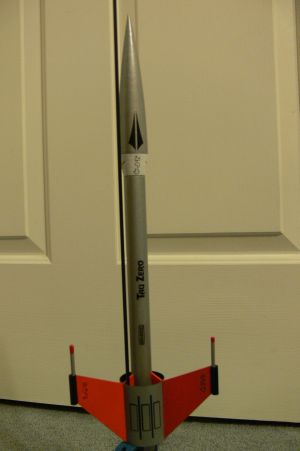 Brief:
This rocket was designed by Jay Goemmer from Twin Falls, Idaho. I live in the same city (and know him) so I decided it would fun to try it out. The Tau Zero is of a really cool design and it has all the quality that Semroc is known for.
Construction:
The components that this kit came with are:
1 Rolled Balsa Nose Cone
1 Body tube ST-7100 (BT-20)
1 Body Tube ST-1622 (BT-80) For the ring fin
1 Sheet of laser cut fins
1 Empty motor casing (spacer)
1 Engine Block (Thrust Ring)
1 Engine hook
1 Retaining ring
1 1/8" Launch lug
3 3/16" Launch lugs (for lasers)
3 Wood dowels (for lasers)
1 18" Shock cord
20" length of Kevlar® cord
1 Screw Eye
24" length of streamer material (1.75")
1 Tape disc (to attach streamer)
1 Q-tip (to apply glue)
1 fin attachment template
1 Tau Zero waterslide decal sheet
Once again Semroc has done a great job with their directions. They are well put together with great illustrations. The only hard part is that it is recommended that you paint the rocket before building it. They recommend that because you can't really paint the inside of the tube fin or the inner fins or the body tube after you attach the fin assembly. Also you need to seal the balsa wood or else your paint will have little dents in the paint.
A couple of other tips: Keep pushing the engine block steadily until it's in all the way. If you pause even for just a second at the wrong spot it'll freeze in place. If this does happen you will need to hammer the engine block back out. I had to do this with mine. I filled the tube up with empty engine casings until they stuck out, then I put the other end of the tube on the table. After that I hit the casings with the hammer until the block came loose. Note: This method is not recommended! Just try not to get it stuck in the first place.
Make sure you don't glue the ring fin on upside down!
It is difficult to get the inner fins on perfectly. If you don't do it right only one end of fins will line up. Semroc has designed a jig for it that works great. It was the best fin alignment tool I've used yet. The inner fins on my rocket happened to be cut out of softer balsa than usual. That made it really easy to mess up the alignment by bending them. Hopefully you won't have that problem.
I have read in other reviews that this rocket is too heavy to launch with a streamer and I agree. I replaced my streamer with a 12" Estes parachute. Be prepared to buy a parachute when you get this rocket.
All in all this is a fun kit to build even though it has some harder things to do, but that's why it's not considered a level 1 rocket.
Finishing:
There was nothing hard about finishing the rocket. I just had some bad experiences with painting it because of a small and not very sturdy workspace. Just make sure you put primer on the whole rocket and don't forget the inside of the ring fin!
Construction Rating: 4 out of 5
Flight:
The recommended motors for the Tau Zero are the A8-3, B6-4, and C6-3.
I found that the A8-3 is a little underpowered for this rocket. It will not take it as high as I would like.
The B6-4 is a great engine for this rocket. The Tau Zero is very stable in it's flight.
The C6-5 is a fun engine too. It took it up higher than the others and ejected just before apogee. I have been worried about snap back damage from the elastic cord but so far I have been lucky.
Recovery:
Like I said before, I put a 12" Estes parachute in the Tau Zero instead of the included streamer. It worked like a charm. Perfect recoveries.
Flight Rating: 5 out of 5
Summary:
This is a fun rocket to build (for experienced modelers) and a fun one to fly. Thanks Jay!
Overall Rating: 4 out of 5