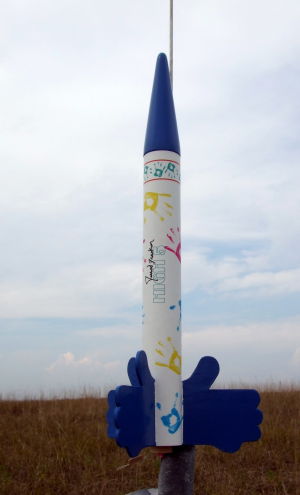 Brief:
While this is technically just a basic three-fin/nose cone 18mm model, you have to give Don a thumbs up for cool design on this one. With decals inspired by Lance Link the Secret Chimp, the kids will love this one.
Construction:
Parts arrived carefully packed in a Priority Mail box and were very good quality. The parts list includes:
Balsa nose cone
BT-50 body tube
Laser-cut balsa fins
18mm motor tube, 20/13 block, metal hook, 50/20 centering rings
Elastic shock cord
Mylar streamer
Waterslide decals
This would probably rate between a skill level 1 and 2 kit on the 5 scale, with the only complexity being 3-piece fin assembly and masking for 2 colors. All told, it's under an hour's build plus finishing time, making for a nice little weeknight project.
The instructions were clear, easy to follow, and well illustrated with computer drawings.
The motor mount is standard assembly with a centering ring as a motor block, a metal hook, and a pair of 50/20 centering rings. The completed assembly goes into the BT-50 single-piece body tube.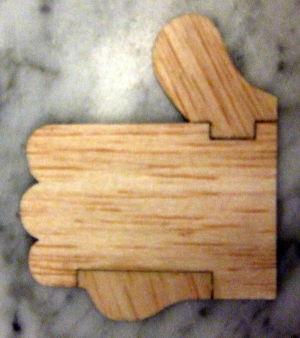 The fins are really a cool design and not just because of the shape. With all those curves and extended fingertips, there's no way that you'd avoid hitting a fin along the grain direction at some point, so this design breaks the fin into 3 pieces with grain going in different directions. I went one step further and laminated mine with computer paper and white glue, which eliminated the grain filling work later. The completed fins go on the body tube, which is marked with a wraparound guide.
Mount the 1/8" launch lug and the elastic (using the tri-fold paper method), glue the screw eye into the nose cone base, and construction is done.
Finishing:
I treated the balsa grain on the nose cone with a liberal smearing of Elmer's Fill 'n' Finish and as noted earlier, went with laminated fins. I didn't bother filling the body tube spirals as they were pretty light to begin with.
Everything got a gray primer coat, followed by a white primer, then two coats of Krylon gloss white. The next day, I masked off the main body tube area and hit the fins and nose cone with Krylon blue. I wanted a lighter blue to match the decals a bit better, but I couldn't find a basic rattle can option that would match very well.
The waterslide decals went on fine and were easy to work with.
Construction Rating: 5 out of 5
Flight:
For the first flight, I had a perfectly calm day so I went to the top--C6-5. It boogied up a bit more quickly than I expected with those fairly large fins, and it had a very slight spin--maybe 3 rolls on the way up.
Deployment was right at apogee.
Recovery:
The kit features a nice mylar streamer so drift was minimal and finding it in the taller grass (3-4') was no problem. There was no damage at all. Having landed in the blanket of tall grass and weeds, I didn't get a chance to really test out the fin strength, but I do feel pretty confident the lamination is going to prove to be a valuable deviation from the standard construction.
Flight Rating: 5 out of 5
Summary:
PROs: neat graphics, unique fin design, flies great.
CONs: none, really. I can't whine about potentially weak fins when I never actually broke anything.
Overall Rating: 5 out of 5